Videos games with mature content and violence got worse...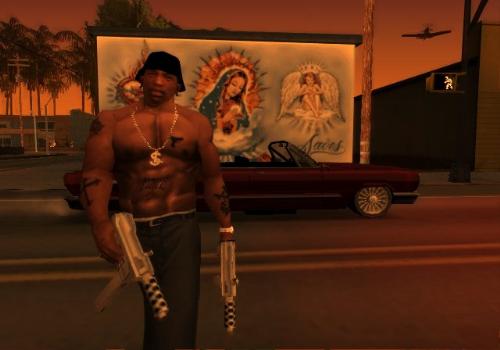 United States
February 4, 2008 12:22pm CST
Throughout the years of video games whether you have a PC Computer, Nintendo system, Playstation System or an Xbox system video games with extreme violence and mature content have pushed it too far. Growing up I have played games like Doom, Wolfenstein 3D, Counterstrike and othe war games like Call of Duty and Battlefield. But those aren't the type of violent games I'm referring to. The one's I am referring about are the simulating shooting games such like Grand Theft Auto, Dead To Rights or many other games that have vulgar language, mature content, extreme gore, blood and acts of attempting to murder while playing the game. Now of course in stores they rate their games by genre. Games for mature content are rated M for adults and you can't buy those unless you're 17 or older. But still what really disturbs me is that some places that sale these games don't take the time to ask for ID's to young minors that want to buy the game. This is true - for one if you were to understand the human mind and what you feed it is like what you plant a seed it will grow and haunt them. Some do and some don't. I play video games from time to time, but the ones with just extreme violences are disturbing and can't bear to see things in my eyes. I mean who would want to purchase a game that results in domestic violence, shooting cups, even games that show a person raping a woman? That's ridiculous and for these creators of the game to make excuses they are expressing themselves and trying to hide from reality? It's just plain garbage and poison. And for these stores that sale these games to younger audiences need to do a better job in asking for ID's if they want to buy the game.
5 responses

•
4 Feb 08
Why shouldn't adult video games exist for those legal adults that want to play them? As long as the adult themes are legal (rape scenes exist in movies) and do not have illegal content in them, what's the problem? Pyschopathic tendencies could be developed from watching violent movies or listening to hard-core music. Your comment about stores selling to the underage is a totally seperate issue and has nothing to do with the existence of adult-only video games. The Grand theft auto games are phenomenally successful (unlike say Manhunt) for a reason, because they are great fun to play. I find it an odd argument that you think these GTA games are 'plain garbage and poison' but Counter-strike is allowed although you can play as a terrorist and shoot or knife your own hostages at will. It's easy to demonize video games becuase it's still a relatively young industry that has the perception that only kids play video games. But slowly the industry is starting to mature and wider audiences are opening up such as casual gamers via the Wii and mature gamers in our 30s and 40s that have grown up with video games.

• United States
4 Feb 08
I'm not saying nothing wrong if adults like us have the freedom of choice to buy those games. I'm addressing my issue that their are those that sale these games to young minors and I have seen it myself those that are like maybe 13 or 15 years old buying games Rated M as if some of these employees could care less of looking at the Rating Genre of the game.

• United States
4 Feb 08
I may be wrong, but it seems the issue your concerned with is the fact that some stores don't check for ID's when purchasing these games you describe. Yes, it is unfortunate that some people either don't care or don't understand how to do their jobs, but the people who make these games are in no way controlling a stores inability to follow the law. The simple fact is, these games are around due to freedom of speech. Taking away games like these would create an "unconstitutional infringement of freedom of speech" http://www.joannecantor.com/Whosefreedom.html and create even bigger problems within the government. Personally, I feel as long as people do their jobs correctly, there is nothing else that can be done when it comes to graphic video games, the problem seems to lie within the stores, not the creators themselves.

• United States
4 Feb 08
I don't stem for people to take away what is called freedom of speech, but there is something called common sense. I am addressing the topic that I see minors being sold mature content games like the one I have mentioned above. And having nephews and nieces that love to play video games I would not dare even buy them these games and would not consider them to be around it to hear those foul languages, blood and gore to feeds those in their minds.

• United States
4 Feb 08
As you say, there is something called common sense. Don't like the games? Don't buy them. If your nieces and nephews like those games, don't be the one to purchase them. If their parents purchase them, then it no longer becomes your concern, as they are doing what they feel is correct when it comes to their children. Unfortunately, there are lazy people in this world, who don't want to do their jobs, and may sell these games to children who are underage. But again, there is really nothing that can be done about it at this time. Sure, you could complain to the store manager, get some peon fired, and have that spot filled with another careless employee. It is not the creators job to make sure the graphic games they create fall into the right hands, that is the job of both the distributors and the parents. If you know you are doing the best you can for your nieces and nephews, that is within your bounds, then you are protecting them that much more. I agree with one of the other people who replied to your topic, if there was a stronger way to enforce that these games were sold to people of the correct age, it would help some of these games from falling into the wrong hands. Unfortunately, to mandate that graphic games such as the one you mentioned shouldn't exist, is in fact contradicting freedom of speech.

• United States
5 Feb 08
i can sympathize with the issue of the minors purchasing games rated M. but i personally prefer the violent ones. granted i like racing games and rpgs as well, i really prefer games like Mortal Kombat Shaolin Monks, or God Of War 1&2. i like the violence. i know it isn't real, and that since it is just a game, it doesn't bother me.

• Canada
5 Feb 08
People buy violent video games because they are really interesting and fun to play. If you are a normal person then the violence shouldn't bother you because it is just a game if you already have a problem then you might go out and commit the same violence that is in the game. You are right though about stores should check id's a lot more though when people are buying video games to make sure that they don't end up in the hands of small children to play. Even if they do check for id's half of the time the kids get the games because there parents bought it for them.

• Philippines
4 Feb 08
you remember back here when you had your internet cafe place and many kids loved to play grand theft auto san andreas and counterstrike. i've notice that these kids were just having fun, especially when they were playing warcraft 3 and command & conquer. these kids that play it don't even look at it like i guess some kids might view it, most of these town kids look at these like a cartoon and just plain fun. but i understand what you are saying about places that sale those there where you live and they should not sale those kind of games to minors if it is causing a bigger problem for them in their minds.