Maxine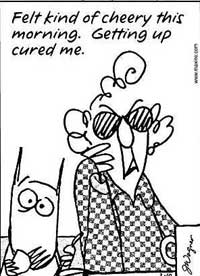 United States
February 4, 2008 10:03pm CST
Wasn't really sure where to put this, but she is a bit of a...well you know LOL. Does anyone here love Maxine? You know that crabby old lady from the Hallmark cards? I swear she is my hero, I want to be just like her when I grow old..heck, I want to be just like her now LOL. She has a wonderfully sarcastic answer or opinion about everything!! LOL. I just think she's a real trip..anyone else?
6 responses

• Australia
17 Feb 08
Yeah, she's awesome! Her sarcastic humor reminds me of my sissy Sylvia. Ya gotta love them!

• United States
5 Feb 08
I loove Maxine, I used to read her in the paper when I was younger. (the comics are about the only true thing in the paper anymore.) My favorite line of hers is, "Nothing's free in this world...except grapes."

• United States
5 Feb 08
She is great. I am actually a little too much like her. There are times I say things and then I am like oops prolly should have kept that one in. LOL I enjoy her though. Gotta love the ones that always have the most honest things to say even if they aren't polite.

• United States
5 Feb 08
I like her too, but I don't think of her as a hero. You know in the cartoons when a character is thinking about doing something and there is angel on one shoulder telling them to do good and a devil on the other telling them to get into mischeif. Well I just have an angel and a Maxine.

• Philippines
16 Jan 10
I love Maxine.I love her sarcastic opinions.she totally reminds me of Daria,from the MTV animated series.I love characters with funny sarcastic one-liners.they're funny without being over the top.