Do you remember Gheorghe Hagi?

Romania
February 5, 2008 6:06am CST
Gheorghe Hagi (born February 5, 1965 in Sacele, Constanta), is a Romanian former football player. Nicknamed "The Maradona of the Carpathians", or "The hunk with the chunk", he is considered a hero in his homeland as well as in Turkey. He has won his country's "Player of the Year" award a record six times, and was recently named Romanian football player of the century. He played for the Romanian national team in three World Cups in 1990, 1994 and 1998, as well as in three European Football Championships in 1984, 1996 and 2000. He won a total of 125 caps for Romania, being ranked second after Dorinel Munteanu, and scored 35 goals, being ranked first. In November 2003, to celebrate UEFA's Jubilee, he was selected as the Golden Player of Romania by the Romanian Football Federation as their most outstanding player of the past 50 years. Hagi is one of the few footballers to have played for both the Spanish rival clubs Real Madrid and FC Barcelona. In March 2004, he was named among the top 125 living footballers by Pelé. Today is Hagi's 43rd birthday and I wanted to thank him for the beautiful moments he brought to his people, and remind everyone here of his genius. Happy Birthday, Gica!
5 responses



• Greece
2 Oct 08
Great player... I remember watching some of his goals in his career the other day... he sure was one of the players that helped romanian football became worldwide known... I think him and Dumitresku (don't know if I spell it correctly), who became a coach now, were the best 2 players of romanian football ever...

• Romania
3 Oct 08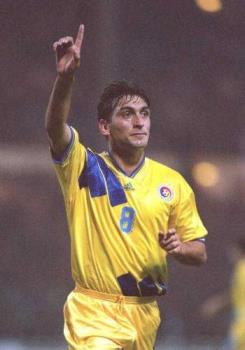 Ilie Dumitrescu is very much appreciated for his performance, especially for the way he played during the 1994 USA World Cup, when he was marvelous against Argentina. He is a part of the so-called Romanian "Golden Generation" that achieved the best performance for our national team, but he is not really in the top in the Romanian football players Hall of Fame. I think you appreciate him also for his work at Greek football clubs 2006/07 PAOK 2005/06 Kallithea 2005/06 PAOK 2004/05 Akratitos 2004/05 Egaleo 2003/04 AEK Athens.

•
6 Feb 08
Who could forget Hagi, a joy to watch, although I always thought he played better for Romania than he ever did for the clubs he was with. Happy Birthday

• India
2 Oct 08
I have seen Hagi play and agree with the title of "Maradona of the Carpathians". The mercurial playmaker was undoubtedly Romania's best player till date. I remember his performance in the 1994 and 1998 world cup were he was the center of the Romanians good run. Especially his free kicks were fantastic to watch. Cheers! Ram