The Spencer Kids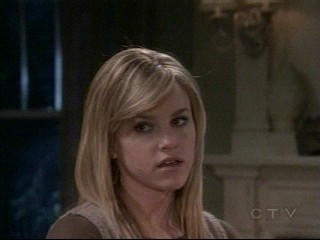 Canada
February 5, 2008 1:21pm CST
Ok, Only my opnion, and just wondering if anyone else feels the same way: Daddy Luke and Momma Laura are icons in GH history, maybe even a;; of soap history...Bit their kids? Ok yes, the casting department found a great 'young Laura' in actress Julie Berman. She looks, acts, and to some extent sounds like Laura (Genie). And I know they have tried to give her lot's of Luke's attributs too. It was pure luck that Tony and Genie got paired together and plummetted into stardom. But sometimes I am feeling they are trying to force the stardom with Lulu and Lucky and it just aint working. I am so tired of seeing Lulu get kiknapped and whining and being chase by every young guy on campus. It was great at first, but enough is enough. Let's get her off the front burner and give someone else a chance for crying out loud. They made Lucky into such a looser and now I feel they are trying to redeem him, but is it too little too late? Foe me, Lucky died in that fire that took Jason's bikeshop and the Lucky's room above years ago and they should have let the character die when they lost Jonathan Jackson. Jacob Young (Lucky #2) was a horrible Lucky and although, I do like Greg Vaughn, he is still just not Lucky to me, maybe an impersonation, another Helena story to that effect would be awesome and refreshing by this point in GH time. Anyone agree with this or have any thoughts on the matter at all?
3 responses

• United States
6 Feb 08
Yeah this whole storyline is begining to wear a little thin. Lucky domes across as a bland,boring person. Of course his acting and delivery of his lines leaves me a bit flat. I do think there is more potential for Lulu but like you she needs to quit standing in the middle. I would rather see her with one or the other of the guys and develop something that way rather than bouncing back and forth. She is always talking about how she got her spirit from her dad but they have yet to develope this. Oh well.

• United States
6 Feb 08
I have no idea how they ended up semi-normal with parents like Luke and Laura! They were always running away from someone and dragging little Lucky along. He even knew an escape plan for if they got separated. Lulu fared better, she had Grandma Leslie to keep her after Laura ended up catatonic. I also think Jonathon Jackson was the best Lucky, maybe because he was the first. I just can't get invested in Greg Vaughn's performance. I am way over Helena.

• United States
6 Feb 08
I agree with Jonathon Jackson was THE Lucky. I wish they would bring the real Laura Spencer back, at least for a short time. If Luke can live through everything that happened to him, they can bring Laura back.:)

• Canada
7 Feb 08
Maybe Genie Francis doesn't want to go back to General Hospital.

• United States
5 Feb 08
I agree with you. When they did the hole Logan forcing Lulu to kiss him was around the time Lulu learned of the rape. From that Lulu and Logan got together. Every time I see them I think of Luke and Laura. It seems like they are trying to make a new Luke and Laura and thats never going to happen. They will never have that chemistry between actors let alone characters again. As for Lucky yes he needs to go away for a while. It seems like every one these days needs to go away and come back as new and improved. I don't agree that they should have killed Lucky off but they do need to change his story a little. I really never cared for Helena but yes I agree that a Helena story is needed about now.