Wow... What a Wonderful Gift Idea!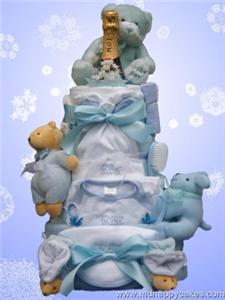 February 5, 2008 4:15pm CST
I have a friend who is due to give birth to her first child in April. She's so excited, it's unbelievable and I was trying to think of a good gift to give her and her hubby. After a little thought, I decided on a basket full of useful things for a first baby, and so, I proceeded to search online for babygrows, blankets, and everyday things, when I came across something I thought was a really brilliant idea!!! So, I'm going to attempt to make one of these myself! Any ideas what? Read on... I came across some Nappie Cakes, single tier, two tiers, three tiers and luxury, four tiers. The one in the photo is a luxury one, comprising the following ingredients: 1 - Bottle Celebratory Champagne 1 ~ Welcome To The World Bonnet/Hat 1 ~ Welcome To The World BodySuit 1 ~ Welcome To The World Bib 1 ~ Welcome To The World Lightweight Blanket 1 ~ Welcome To The World Baby Bootees 85 ~ HUGGIES Nappies (approx) 1 ~ Soft Warm Baby Blanket 1 ~ Pair Baby Socks With Anti-Slip Soles 2 ~ Pairs of Scratch Mitts 1 ~ Baby Bottle Brush 1 ~ Bottle Teat Brush 1 ~ Pair Baby Scissors with Safety Cover 1 ~ Soft Baby Brush 1 ~ Baby Comb 2 ~ Soft Baby Washcloths 1 ~ White 28" Muslin Square 1 ~ Blue 28" Muslin Square 1 ~ Plush 'Baby Boy' Bear (0+) 1 ~ Large Soft 'Big Ted' (0+) 1 ~ Pair 'Big Ted' Bootees 1 ~ Soft Puppy Rattle Wrapped with Double Satin & Organza Ribbon 'It's A Boy' Banner Floral Embellishment Gift Tag Ingredients Card Naturally, this was quite expensive, in fact, £64.95, because of the Champagne, but prices varied for simplicity and content, and started as low as £11.95. However, I started to ponder how it was made, because I wanted to have a go at this myself, when during my search, I found E-Book instructions, priced at £1.50. So, I purchased these and am going to make one myself, for my friend. That way, I can choose colours better and designs on sleepsuits, etc. Have you ever seen these before and don't you think they're a wonderful, novel way to give a baby gift? Wow... I was so impressed! :)
6 responses




• Australia
12 Feb 08
Please include something for the new Mum too. Childbirth is a rite of passage and a woman's carefree days are now over. Overnight, following the birth of her child she has had to assume a tremendous responsibility that she cannot possibly know about yet, all to quickly she will realise as her body readjusts itself to the infant she has been carrying all this time to the nurturing part of the procedure. All of a sudden, a woman is gone from herself and she is only thinking of her newborn. Of course the prize is wonderful, a miracle in fact but the whole thing takes it's toll on the mother. Champagne is wonderful and great to share but at this special time there is something a woman REALLY needs from time to time, something that should not be shared that she can have all to herself. Give her some chocolate!! Quickly.

•
12 Feb 08
My sentiments exactly. I have already been searching for presents for Mum and Dad. I thought I would get a fun present for Dad... a tool belt, with all you need to change baby's nappy, included, even down to a peg for his nose, and a face mask, to quell the smell. ha ha ha. Mum, I thought would maybe need a bit of lavender pampering but the chocs could be added. I also saw a lovely silver necklace with a par of tiny bootees hanging from it. I'll get there, but thank you for the advice. I'm sure they'll love to be remembered. :) Brightest Blessings. x

•
14 Mar 08
Yes, all too quickly my dear friend. She's finding things very difficult to cope with at the moment, because she's convinced, as I am, that this was no "accident". I'm busily trying to get some protection and healing items, so that my friend, when he is able to visit, can perhaps put her mind at ease a little more, and bring her some inner peace with the combined effort. We tend to forget the Dad in all the turmoil.. he is heartbroken too, and I'm not sure how to help him. I think we feel men have more strength, but I don't... I feel they surpress their feelings. Ah well.. we can't turn back the clock, but we can try to help them back onto a path full of light and hope. Till then, I continue to send my energies, and "prayers". You're welcome to BR, my friend. It was your thoughts for the mother after the birth that swung it for you... the chocs!


Brightest Blessings, in the hope your health is improving day by day. xx


•
6 Feb 08
Yes, the Champagne is to "wet the baby's head", so to speak, for Mum and Dad, presumably and anybody else who's invited. lol. Thank you for the compliment, my friend. This is slightly different though and I thought it would be a special gift as I'm known as The Cake Lady. lol. Brightest Blessings. xxxx

•
6 Feb 08
Never say never, my friend. I doubt I will venture to the States again, not because I didn't love the place, but I can't see me doing the long trip again. However, I have a friend in Washington State, who used to hail from New York, but she was traumatised on losing many of her friends, including her best buddy, on 9/11, and could see all that was happening from her apartment... hence she moved away. From time to time, she likes to revisit and catch up on her old mates who are still around. She, and another American friend who married and moved to Canada, are talking about coming over to England, next June... that's June 2009. If we play our cards right, we might just be able to swing something here... if they do manage to get here, I'll see what I can do. It depends on whether I'm able to stand and do the cakes as well, and on her response for another. She's my "Sis" so I know she'll think about it. :) It's surprising what one can do when one put's one's mind to it. That not being viable, there's a few other enquiries I could make, so dream on, my friend. Brightest Blessings. xxxx

• Australia
5 Feb 08
That looks like a great idea, what fun a new young mother or a mother to be would have going through that, all useful things, when you think about it it could even be fun for someone with a bit of artistic flair to make one up, wonderful idea.


•
5 Feb 08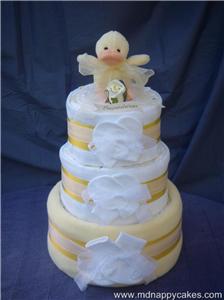 I bet so, too. It seems there are a few businesses about and they sell all the celebratory bits and bobs too, like balloons, photo frames, keepsakes and such. This just caught my eye.. I think it's beautiful, but it's way too expensive for me, so I thought I'd make one up myself. Here is a pic of a somewhat cheaper one. Brightest Blessings.