For those of you that celebrate Valentine's Day...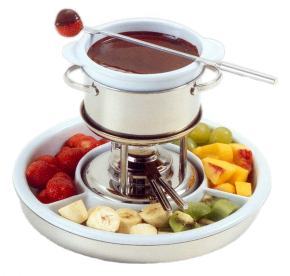 United States
February 7, 2008 7:24pm CST
Are there any couples doing dinner at home this Valetine's Day? I am curious, for the ones that will be staying in,are there any special meals you like to prepare for this special occasion? I like doing fondues,it's romantic,it gives a huge variety and it's really good.How about you??
4 responses

• United States
8 Feb 08
we'll be doing Valentines day at home. No sitter for the baby. Besides restaurants will be too crowded. So heres the delimia. We can skip Nick's nap and he can go to bed early and so can we. (wishful thinking) Or he can take a nap and I can make a good dinner. HMMM???? Lovie with the hubbie or Yummy in the tummy?

• United States
8 Feb 08
HA!! What a toss up!!!LOL I wish you tons of luck!! Hope you enjoy your Valentines Day anyway!!! thats ok about the 2x post, it happened to me today on here, I think it is the traffic on the site that is cramming the pc's..???

• United States
8 Feb 08
We are staying in for Valentines Day.We really can not afford to eat out. I'm planning on making stuffed pork chops with garlic mashed potatoes,gravy,corn.and chocolate pie for dessert.

• United States
8 Feb 08
sounds like you might just win someone's heart all over again with that meal :)

• United States
8 Feb 08
We'll be doing valentines day at home. I hate eating out on holidays because its always so crowded. Plus we don't have a babysitter so whats the point? Maybe we'll try to skip Nick afternoon nap so he'll go to bed early? Wishful thinking! I haven't planned dinner yet and Paul has to work during the day so it wont be anything too elaborate unless does take a good nap in the afternoon and gives me some alone time in the kitchen. HMMM???? Which way to go? Lovie with the hubby or yummy in the tummy?

• United States
13 Feb 08
Thanks for the ideas, glad I tuned in tonight. I never even thought about doing something special for dinner at home. I'm sure the kids would think it's fun to have candles, different anyway.

• United States
13 Feb 08
I am glad you tuned in too :) Glad to help! Happy V-Day!!!