Dogged By True Love?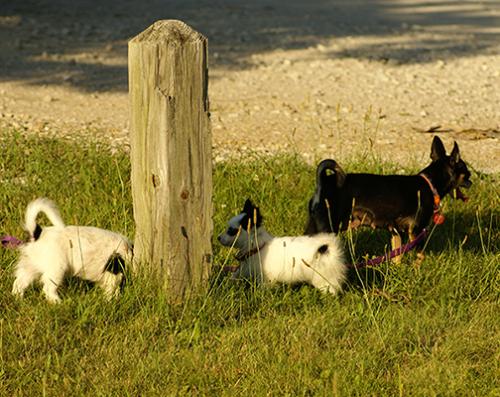 United States
February 8, 2008 7:57am CST
In one of her interview with Glamour magazine, Mariah Carey said she "definitely" believes in true love . . .as long it's with a pet. No wonder she always makes sure "Jack," her Jack Russell terrier, is with her, sometimes flying him privately or making her chauffer drive him 3000 miles! True love with a man, though? Mariah's not so sure, having never experienced it herself. Heather Mills: "Men let you down. Dogs don't," when asked about her 13-year-old wheaten terrier, "Oliver." Jessica Simpson's maltipoo "Daisy" is one canine who's been racking up the frequent flyer miles. Who's the best cat owner? Halle Berry. Her kitties dine on Boquerones, a rare variety of white anchovy that costs nearly $25 a pound. Maybe it's because she's the original Cat-Woman, but Halle knows that we felines will take a gourmet meal over ridiculous so-called luxuries like diamond collars and Vuitton bags any day! Hilary Duff's Chihuahua Lola has launched her own "dog blog" on the singer/actress's official website. Lola's blog is located on a section of the website that's open only to members of Duff's fan club, which costs $30 to join. Christina Applegate and hubby have two dogs and two cats. One pooch, described by Christina as "the most amazing creature on the planet," doesn´t have use of her hind legs. This hasn't stopped the little dog from accompanying her famous human companion everywhere. Proud Christina has bought a doggie wheelchair for her courageous pet. What would you do for your pet if money is not the issue?
8 responses

• Canada
9 Feb 08
If I had the money, I would open an animal shelter and work with vets. I wouldn't mind spoiling my cat, but she doesn't like haircut or dresses. She only likes climbing and jumping and following me around. I wouldn't mind giving her expensive food, but all she wants is one brand that I can fortunately afford - so what's the point? I would rather build a shelter for animals that need one, and then these animals be my cat's friends. Why spend millions on one, if we can spend the same amount for many more?

• United States
9 Feb 08
I keep talking about with my family member for years. I always wanted to start animal shelter...

• Kuwait
8 Feb 08
ha ha ha ha i think not, i love to walk them beside me, more enjoying than they are in thier wheelchair. i also agree that you will feel the lot of your pet if you really care to them. that what they said much better to take good care of pet than human, because human will fight you at the back and dont care what you did, they will also face you off.

• United States
8 Feb 08
Oh my do you really think these pets know they are treated any better than other pet. I love my pets but even if money was no object dont think I would do any different than what I do. They traveled with us when we were on the road and stayed in the motel room with us if motel wouldnt take them we went to one that would.

• United States
8 Feb 08
I travel with my dogs too...we are good owners already...;)

• United States
8 Feb 08
good thing my dogs don't know diamonds...lol


• United States
9 Feb 08
Hehehe...well I envision myself in a really large home with lots and lots of space, and lots of acres of land...I think I would have one room cordoned off specifically as the "cat" room where they could "chill" out and have as many "goodies" in it as possible......condos, beds, and maybe decorated with an Ancient Egyptian motif, with statues of Bast all around...I only have two cats now,but wouldn't mind a few more....Then since I don't have dogs now, would....so most likely have another room as the "doggie" room decorated just for them...uh were there any Ancient Egyptian dog gods??? LOL One of the kinds of dogs I would love to have would be huskies as they remind me of wolves which is my totem animal...and having all those acres of land would be great for them to run and have fun on---oh, yes...I'm "gone"..LOL

• United States
9 Feb 08
Ha, ha...let me tell you something about doggie room. When I moved to my house, I made one room was a doggie room. Not anymore. They prefer my room and want to be with me all the time. Right now they are snoring in small doggie bed next to my computer... As soon as I am in my bed, they are with me... When I am not at home, they think that finally they have my bed all for sleeping and snoring...all 3 girls... Former doggie room is my hobby room...lol They have yard to run, but nothing compare to daily walk...:)

• United States
9 Feb 08
Hehehe...that's no doubt what would happen with me too. I could have a beautiful cat room and a dog room, but they all probably wind up with me. Yup, my two kitties have made MY bed theirs, which is why I slept like a pretzel at night, and of course I don't dare move to make myself comfortable otherwise I'd just get nasty looks from my two babies

• United States
9 Feb 08
nasty looks is nothing compared to my dogs wrangling...he, he....

• United States
24 Feb 08
I try to give them really good health care and healthy dog food. Beyond that I think love is the most important thing and my dogs have plenty of that.

• United States
24 Feb 08
This is the best what we can do, all they need is love...

• United States
23 Feb 08
My kids adore me with what they have now and don't need anything fancy. If money wasn't an issue, I would definately buy med. insurance for them and donate heavily to animal welfare.

• United States
23 Feb 08
I feel the same my friend, love is all they need. Medical insurance for pets is ideal to have. I used to pay for every month but not any longer, too expensive....

• Australia
9 Feb 08
I have loved all my animals over my lifetime, especially my dogs, but you can go too far. I suppose it's a way for the wealthy to part with their money, but I'm not in that class.

• United States
9 Feb 08
I rather give money away than spend on someone who need petting more than fancy items...

• India
8 Feb 08
I guess money wouldn't make too many differences to my lifestyle or that of my animals. They love simplicity as much as I do. I really wouldn't be extravagant, neither do I believe in splashing money around, though I am not intolerant when other people do it.

• United States
8 Feb 08
I am with you. Pet needs love and play not luxury.....:)