Does anyone know what this is?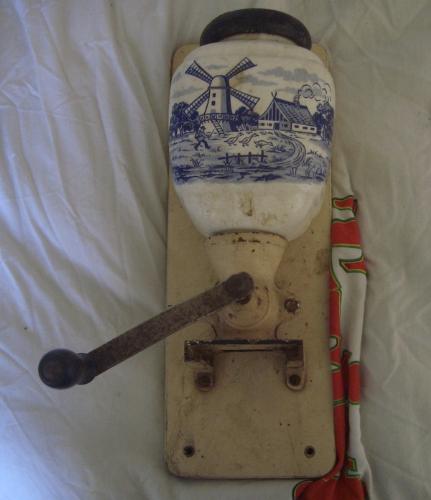 February 8, 2008 8:26am CST
We have had this item for about 10 years and would like to try to sell it but have no idea what it is. It looks like there is a part missing off the bottom, and the handle (which turns) suggests it is some manner of grinder or pasta maker. It has no markings or makers name on it anywhere to give any clues, any suggestions would be appreciated. There's an image added to the post in case anyone hasn't noticed:).
3 responses

•
8 Feb 08
I'm no expert on antiques, but I would say that's a Dutch Coffee Grinder from the looks of the windmill design and the winding handle. Brightest Blessings.

•
9 Feb 08
Worked out it is in fact German but the pattern would make you think it's dutch wouldn't it? Maybe they had windmills in Germany too? In fact they did all over Europe even England where I'm from they were an effective way to grind corn before the industrial revolution. Just for some reason only Holland is famous for them. There's still an old working windmill on the island in fact in Bembridge you can go and see it.

•
9 Feb 08
I lived in Germany for three years, and didn't see any windmills, but the country is famous for its china. Added to that the European influence (Holland is Germany's neighbour), I guess that's where the design came from. Strange, but that design, in blue, is very Dutch! Perhaps it was a border town company who made it, or is it Dresden? We have lots of Windmills on the Mainland. There is Shipton Mill, not far from me, in West Sussex, and on the South Downs, about seven miles south, stand the famous Jack and Jill Windmills. :)



•
8 Feb 08
Turns out it's a German wall mounted coffee grinder, which I suspected it was anyway (not the german part but thought it might be for grinding coffee).

•
8 Feb 08
This site says it's probably an Armin Trosser coffee grinder probably from the 50's. Sadly missing it's catch cup but not too bad condition other than that.

•
8 Feb 08
http://www.oldcoffeegrinders.com/european-coffee-grinders-or-mills.htm

• Canada
8 Feb 08
By the look of it, it could be a coffee grinder. It is too large to be a pepper grinder, and it looks like it might be home made, and possibly either Dutch or German. I am going by what it looks like. You photographed it from below rather than from above so I am not sure. It is not a pasta maker. I have one at home and they do not like remotely like that.

•
9 Feb 08
It is German Coffee grinder apparently I found out.