Do You Have a Burglar Alarm?

United States
February 8, 2008 11:30am CST
Do you have a burglar alarm? If so, do you set it everytime you leave your home? We do have one although we live in a good section of a large city and crime is very low. We've had it for several years and do set it each time we leave the house. It becomes a good habit after awhile. I feel safe at night especially when I am home alone while my husband is travelling during the summer months.
10 responses

• Mauritius
9 Feb 08
I lived in a country where it was imperative to have a burglar alarm. Not just an alarm but one that was linked to an armed response unit. Even so many people were burgled and hurt before the response units arrived. I moved and now live in a country where burglar alarms are just about non-existant - it is such a change and even though I am still a bit edgy and lock everything up tight at night - I am beginning to feel safe again and realising how nice it is not to have to worry all the time.

• United States
10 Feb 08
Yes we have a burglar alarm. I set it every night and it has become a good habit. It makes me feel a little safer though I would still like to get a dog. My son disarms the alarm in the morning when he leaves for school. Sixty seconds later I arm it again. LOL.


• United States
9 Feb 08
I don't have one. I live in an apartment complex. You are smart tho. As heroin becomes more and more popular, burglaries are occurring more and more. These people need money and are targeting the nicer neighborhoods where they are apt to find cash, expensive jewlery & electronics. At least that is what has been happening where I live. Stay safe!

• United States
9 Feb 08
No we dont have a burglar alarm. I wish sometimes we did only when my hubby goes away too. He goes away 2 twice a year for only a couple of days but Im always a nervous wreck.LOL Im in a really safe neighborhood so that helps.

• Philippines
9 Feb 08
We do, since the previous owner of this house we're now occupying has been robbed. We turn it on when leaving our home, as we have them attached on every possible entrance route. Luckily, no one has ever attempted to break-in for the past years we've been here.

• United States
8 Feb 08
I had an alarm system in our house which actually was a couple houses ago. Haven't had one since probably due to the cost of installation, etc. I've seen signs in the windows of houses that say there is a system, when actually there isn't. I also have a friend that has a motion detector camera outside his house - in reality it's a fake that is motion. Right now I have a barky little dog and bells on the front door. I feel safe enough for now...Whit

• United States
8 Feb 08
We do have a motion detector in our living room but can't turn it on unless both the dog and cat are in another part of the house. The movement from either might trip the alarm. Then come the cops and a hefty fee for a false alarm. I do like having one in this house. Bells on the front door is a good idea. Thanks for responding.


• Canada
8 Feb 08
I dont have an actual alarm. I have a big ole dog that scares people off. I dont live in a very good area of town so the dog is a safety net for me. My hubby works alot of nights so I feel alot safety net for me. He barks at the wind and I've seen what he does when people he dont know just walk in the house. So if someone tried to break in and hurt anyone in here, or just plain break in, he would go a little nutty and I'm sure the burglar wouldn't be long takin off :)

• United States
9 Feb 08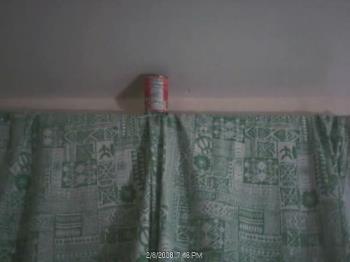 Yes I have am alarm here in my home. it's call can of veggies. LOL Here is a dark picture of it. I can't bother with the lighting right now. It's my window and it someone takes the time to tussle to get in it. They will meet my veggie can and scream ouch.