Is Saif playing it safe?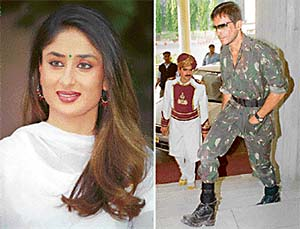 India
February 8, 2008 11:38am CST
If you have it, you flaunt it. Well, I am not talking about the overdose of six-pack abs which most of the Bollywood actors are obsessed with. Here, I am talking about 'love'. Needless to say most of the stars believe in talking about their love lives, or being written about. While most of the actors would agree with me that since 2000, the face of Bollywood aka Hindi Film Industry has undergone a massive change. At the same time, relationships in Bollywood have taken a different tangent. Break-ups and split stories are dished out everyday like cookies by the tabloids and we (the journalists) add fuel to the fire. Take Saif Ali Khan for example. Since the time the actor has admitted that he is dating Kareena Kapoor media has not left him in peace. The paparazzi has certainly killed the charm of a star romance, which prevailed during the era of Dharam-Hema and Amitabh-Rekha. The 'right on your face' culture has not only mottled the charisma of the stars but has made it boring to a large extent. Every detail of their life is exhibited on public domain, be it print or electronic media; they have been feeding us with minute-by-minute detail about the K couple (Khan and Kapoor). When Saif decided to have a tattoo on his hand celebrating his love for Kareena, everyone went berserk. "This man has an attitude!" said people who thought it was very cool to flaunt the name of your ladylove on your armr. Some said, "Considering that Saif is extremely impulsive, he might just land up having several such tattoos all over his body." Gee! Frankly speaking, I think Saif Ali Khan is going overboard with his new-found love Kareena. While the lady is happy with Saif, the actor walks hand in hand with Bebo darling at all social dos. But, I must admit that Shahid Kapur was intelligent enough not to call a press conference a la Vivek Oberoi style, and maintained his dignified silence. Take Vivek for instance, he is a talented actor but due to some 'miss'-guidance he became the 'touch him not' actor in the industry. Even newcomer Deepika Padukone is gladly posing with Yuvraj Singh's mother and indulging media about her ongoing affair. Not just that, when the Big Brother frenzy frizzled out, Shilpa Shetty decided to speak about her love life Raj Kundra. It seems love is all about 'calculating and taking the right steps at right time'. Whenever I looked at Shahid and Kareena, I always felt that they made a nice couple. Shahid was not the kind of guy who liked to go to parties; he had his own ideologies intact. Kareena loved the simple guy who had every potential to become the next Shah Rukh Khan or Hrithik Roshan in this industry. Kareena still admits that Shahid has been a positive influence in her life. I remember how Kareena stood beside him when Shahid had back-to-back flops. Now that he is a successful star, Kareena has moved on in her life. But, what went wrong between the two is a bigger mystery than any Hitchcock thriller. No doubt Saif looks charming (even with his lil' paunch) with Kareena in the promo of Race. But we wonder what would be the fate of Saif-Kareena love story? Even if we let go the age factor (Saif must be 15 years elder than Kareena), can we ignore the compatibility of these stars? In last four years he has had two girlfriends. He has also made it very clear that whomever he dates, the person needs to love his kids too. Now, Kareena is seen mollycoddling Ebrahim and Sara, just like Rosa did couple of months ago. There has been a strong buzz that Saif would marry Kareena by the end of this year. Recently Midday splashed the photograph of Kareena flaunting the rock, which Saif gifted her. But at the same time Kareena mentioned in one of her recent interviews that she doesn't see herself married in the next five years. So where does this relationship stand? Relationship is just like a journey; it needs to cover a certain area of life and has to have moments, which are worth remembrance. Marriage is certainly one of the important factors in such a relationship, but then, as Merlyn Monroe would say, "Not all love stories end at the altar." True.
2 responses

•
18 Feb 08
Personally I was quite saddened when I heard Kareena and Shahid had split, I thought they made a nice couple but who's to know what went on with their relationhship and the real reasons behind their split. I don't know that I agree with her relationship with Said, 15 is a big difference, and he has done all his partying and stuff whilst she is at that age where that's all still appealing to her. This is one of the main reasons why love marriages between people with a big age gap tend not to be too successful (sorry to generalise, am only saying from the point of view of relationships I've known) and who knows how long theirs will last. At the end of the day, us "normal" people can say whatever we like, their relationship has to stand the test of time and only time will tell if it will last :)

• India
18 Feb 08
Yeah .. I agree with you friend .. Saif and Kareena's age difference is quite big. Let's see how long this relationship is going to prosper ...

• India
10 Feb 08
You know what i am not that really interseted in the lives of this filmy.I actually don't believe whatever we see or read is true.saif is literally going overboard the way Kareena used to go.let them live there life as they want.

• India
10 Feb 08
It's like very unusual that have happened which makes me feel like this.