Is this funny, sad or down right sick?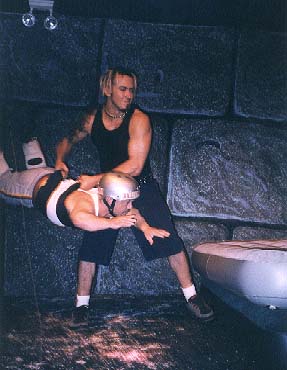 9 responses

• United States
9 Feb 08
In view of the fact that a small town in Arkansas was forced by public opinion to discontinue their practice of dropping turkeys from airplanes for sport, on would think you would know better than to even ask this. However, since you don't, perhaps this is your kind of town: http://www.roadsideamerica.com/sights/sightstory.php?tip_AttrId=%3D16921 The Miss Drumsticks beauty contest will probably appeal to you most, though.

• United States
9 Feb 08
everyone has things done in their neck of the woods that is strange. I live in Ny and it's true. What think is mad could very well be fun for another. I have seen the craziest of things on television. I find this man is wearing a helmet on his head. Plus he is being toss on an air mattress. It's not mad to me just plain old fun. Now had it been over a bridge it would be something else. Skate boarding and bike riding over trucks and cars to me that is just mad.

• Philippines
15 Mar 08
where is this exactly done? i mean what show, country, etc? i think its an indirect way of mockery to the short people. :( this should not be done by them eventhough some does approve to be thrown... but i think its just inhumane to do...



• United States
12 Feb 08
I honestly just hate the whole idea, but if I didn't I wouldn't be able to pick one up anyway!

• Australia
12 Feb 08
Are we talking about tossing people who suffer from the genetic condition of dwarfism or are you talking about garden gnomes/dwarves? Big difference in being able to pick them up.

• Malaysia
9 Feb 08
Hi xboxboy. Actually, for this kind of event it will totally depend on the local community; either to accept or reject that kind of so called as "sport". as different geographical location will create different lifestyle. Especially any "sports" event in that particular place. Back to your question for "what do you think?", so, my thinking is a serious sport and of course I will toss a dwarf, as sport is concern. As usual, xboxboy, happy postings and earnings. HAPPY DAPPY.

• Garden Grove, California
9 Apr 08
I think this is sort of sad and why are the dwarves allowing themselves to be used this way; just for money:? I would think this would be sort of humiliating to the little people. No I would never do anything like that that would make fun of a person's size. The people aresomething but tossers is not it more like imbecelic maybe the better word or idiotic perhaps.