Can they make it?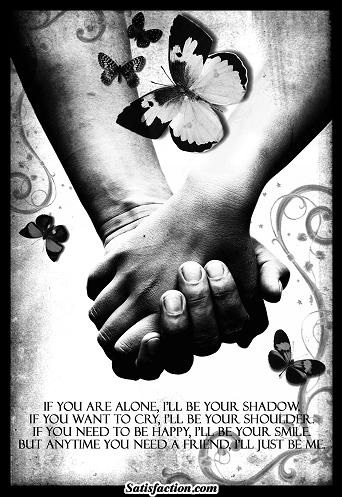 Philippines
February 10, 2008 3:39am CST
I have a friend that is still inlove with the childhood friend but the thing is the girl is already married with kids. Do you think they can have the happy ending? Allow me to share their story: They grow up together and became best of friends. Every summer they make it a point to be with each other. Spend a lot of time and having good times. They did'nt know that they're falling for each other. No one has the courage to tell the other what he or she feels. Contented with the friendship they have till one day the girl find someone and eventually got married. It crushed the man's heart and regreting a lot for not letting the girl know her feelings. Time passed by and the guy met a lot of girls but seems not to forget the childhood friend. Until one time they had a heart to heart talk, and funny may it sound but the boy open up his feelings for the girl. Sad to know the girl loves him as well but in her situation she cannot do anything cause she's taken already. But they both agreed that in time they will find a way to be with each other. Do you think they can make it? Hmmm... maybe time will tell. But I wish them both happiness whatever their paths lies ahead.
10 responses

• United States
11 Feb 08
Unfortunately, these feelings should have come out before the girl got married and have kids. She is really obligated to make it work with her husband not only because a marriage is about commitment and honoring one another, but for her children as well. It was wrong to let those feelings come out about the other guy or for the guy to even tell her about how he felt after she was married. I hope that they both find happiness to, but the happiness needs to come from her husband to her and for the other guy he needs to find it from someone else. Marriage is not just paper, but a covenant between not only man and wife, but to God as well. These feelings need to subside for the other guy and restore with the husband that she has now. God bless

• India
10 Feb 08
It appears to be a good love story, fit to shoot a Film in India. The cine men will give a successful movie in Indian languages. Coming to the reality, when a boy and girl are friends from childhood, there is every possibility to blossom love between the two. I don't find much difference between love and friendship. Friends lives for each other likewise lovers. In a friendship,When one chooses a spouse, the other has to sacrifice undisclosed love to pave a way for a peaceful life of the other. Instead, if each other disclose their love after a wedlock, it not only harm them but also ruin the family set up. They have to live in imaginations only which may give happiness till they land to reality.

• Philippines
10 Feb 08
Its a real story but seems like a storyline in a movie. It will really ruin a family if they'll follow their heart but they agreed to wait and just be contenbted with the fact that they both know what they feel for each other... Moral of this is to let people know how we feel.

• United States
11 Feb 08
yes but since the feelings were revealed AFTER the marriage and AFTER the kids then it does not offer contentment but only remorse and wishful thinking and fantasys which in turn could destroy the marriage and break up the family. Speak now or forever hold your peace is said at most wedding ceremonies and should be adhered to. I think it was very rude of the guy to finally air his feelings when it is too late....and for what reason?

• Philippines
10 Feb 08
That is such an interesting love story, and I truly sympathize with how things turned out for them. It could be possible however, maybe the girl married her current husband because she is afraid to tell the guy his feelings. Besides, you said they never admitted their feelings for each other so that could be one factor. I think it is unfair to the guy whom the girl married because their marriage is just a cold foundation, the girl should tell him about that. It is possible that they could be together but it is impossible that someone would not get hurt so they could finally fulfill their heart's desires.


• India
11 Feb 08
hi..........a nice love story.......it could have been a plot of a movie.........but to be frank they both are not doing the right thing if they plan to be together.....they both or else the girl wil be ruining the life of her husband and also of her kids.........and i think even if they come together by crossing all the barriers in fornt of them.....they wont be ale to live happily together because of all the guilty concsience in them....due to all the heart breaks they hav caused to others in their pursuit to come together......

• India
11 Feb 08
I think its a tough situation. here the girl is married with kid. i think any one should have admitted before all these happened. now if the guy wants to get her back, it means the girl has to break up with the husband. so its a situation quite complex. lets watch what happens.

• United States
11 Feb 08
I think it is a romantic story but in reality...she has kids and is married. It would not be easy at this point. Maybe down the road if the marriage fails but I don't think she should give up on her marriage and the father of her children to persue this romantic dream. and hopefully the thoughts of being with him won't infect her marriage. Truthfully i think that since he kept his feelings to himself all of these years that he should have continued to do so considering that she is now married and all.


• Indonesia
10 Feb 08
there is nothing impossible that your friend can make it with his childhood friend... but now, I suggest that he better not disturb the girl's family.. only god knows what happen later...