Giving your Guinea Pig a bath.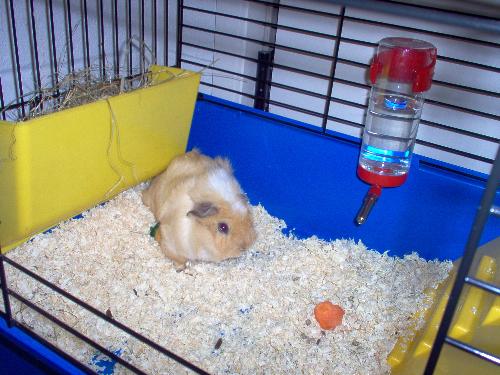 New Zealand
5 responses

• Canada
11 Feb 08
I do not think you are supposed to bath them.. but if the little guy stinks that bad, and there are no shampoo's for guinea pigs, i'd try using either cat shampoo or baby shampoo, at least the baby shampoo would be gentle and has less chemicals in it. Good luck!

• New Zealand
12 Feb 08
My girlfiend washes our two guinea pigs in a weekly basis, she uses a baby bubbles shampoo, which we believe has less chemicals than any other. Anyway, they smell bad of course, but after a bath they just look great and smelling really good!

• United States
14 Feb 08
You shouldn't be washing the guinea pigs that often. If they are getting stinky, either you are not used to normal guinea pig smell or there might be a medical problem with them. Mine have no odor to them (unlike rats). I never bathe the shorthaired pigs unless there is some problem.

• United States
12 Feb 08
I use to give my piggy that was name Albert a bath and I think he liked it.I used a shampoo name Herbal Pet Shampoo got it from the pet store it was $9.99 its a Herbal shampoo.No harsh chemicals and non toxic.Make sure there is no draft and keep piggy warm until he/she dry.I usual wrap up in a towel and rub softly until dry.You can use a hairdryer,but pleaseeeeeeeeeeeeee dont put it right on ur piggy and only on low setting,and keep moving it around,dont hold it in one spot for no time.If you think you will mess up dont use it at all.

• United States
16 Oct 08
I actually gave my guinea a bath today, for the very first time. We've had him since July and he's recently begun to smell pretty bad. I filled the sink slightly with lukewarm water and set him in there, and washed him with a washcloth. At first he liked it and was purring, but then he got scared. I shampooed him with Pert Plus, but I did it very lightly and not near his face at all. I then towel-dried him and used the blow dryer briefly, on low setting.

• United States
20 Mar 08
You don't need to bath them frequently unless you have a long hair piggie. I use Bunny Bath by Four Paws when I do bathe them. If they are getting dirty or start to smell, it may be your bedding choice or your cage too small. See www.guineapigcages.com for recommended housing.

• United States
14 Feb 08
I have had to bathe a couple of mine before. I rescue guinea pigs from shelters, and sometimes they've come in with matted hair and other problems. Or I've had to bathe long haired pigs sometimes. Other than that, you normally don't have to bathe them. If for some reason you do need to bathe them, I usually use something like oatmeal shampoo (without any flea control in it). If you are bathing them because they have a fungal problem, you can use Nizoral. If you're bathing them because they have sludge or some other problem that causes them to get urine in their hair, make sure you have a vet look at them first because that can be a sign of more serious problems. Hope that helps!