old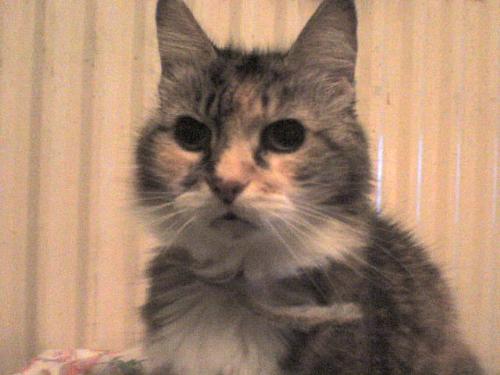 February 11, 2008 5:26pm CST
I have a cat, she is 16 years old, she is very active and is always ready to kick my dogs but but she is always sleeping heavily and I am worried, I know cats are almost designed to sleep but sometimes she does not even twich when touched which is not normal for her, do you know weather this may be caused by something other then old age?
10 responses

• Canada
12 Feb 08
A healthy, young cat will sleep for up to 80% of their day. As a cat ages, they sleep more and more. So at 16 years old, and nearing the end of her life, sleeping most of the day, and waking only to eat and bathe, would be completely normal. If you're really concerned about how heavily she's sleeping, have her see a vet. That's the only way to know for sure if she's healthy.

• United States
12 Feb 08
My one cat is real old too, at least 16 by the vet's estimation. (She was an adult rescued cat when I got her more than 13 years ago, and she was old when I got her) For the past couple of years she spends more time sleeping than up and about. I think though that in the winter she seems to sleep more than in the summer. As for other reasons besides age...many animals get different problems that develop as they age just like us humans do. They can have arthritis, kidney problems, hidden cancers, or even things like diabetes and such. All kinds of things can, and do, go wrong. If you're overly concerned, then a trip to the veterinarian is a good idea. Before taking her to the vet note if she's urinating and deficating as much as she used to. Also if she's eating and drinking as much as she once did. It might be just part of her old age and winding down, but only a vet's opinion can tell the truth of the matter. We all want our animals to last forever, I know I do. Aw, poor kitty, it's hard watching them when they have problems whether it's age related or something else!

•
12 Feb 08
ya, ever though my cat is still active I can see her wivering away and I don't like it, and I know she is still passing urin and deficating because she has begun using the washing basket, I will take her to the vets, thanks.

• United States
12 Feb 08
That's probably due to old age, although you might want to take her to a vet to be checked, for your own peace of mind. My Columbus cat will be 12 years old this coming September and sleeps heavily after playing with his string toy. He's an active cat who thinks he's a kitten.

•
12 Feb 08
he sounds great, I will take my cat to the vets to find out.

•
12 Feb 08
I noticed my parent's eldest cat (I still think of her as my own, even though I don't live there anymore)do this when I was staying over a few weeks ago. I don't think it's a symptom of anything other than old age. Though if you are worried, and especially with your cats age (my cat is only about 9) maybe you should get her checked out by a vet.

•
12 Feb 08
I will get onto that and if it is anything other then age I will let you know so you can check your cat.

• Australia
11 Feb 08
I guess old age could possibly do this to a cat, i think what you have to look for is if she is eating ok and drinking ok and one thing i have noticed in cats if theystart having an odour about them it can be a sign of kidney failure as what happened to my cat, the vet said that when older cats start to smaell a little it can mean their kideys are failing anf the toxins are coming through their pours and mouth, so just watch that at least she is eating and drinking and is happy within herself....

•
12 Feb 08
she does not smell but she is losing her fur, thanks for the idea about making sure she is eating, thanks.

• United States
18 Feb 08
PS Your cat also may be dreaming if her paw trembles and she makes noises when she sleeps.

• United States
18 Feb 08
A vet visit is always in order when there is a change with a cat. My Lady Claire lived to be sixteen years old with a hearniated diaphraghm, that was a miracle. Also she was a Turksih Angora and they do not have long lifespans. She slept more and more as she got older and slept soundly. She would often wake herself up talking very loud. Then she felt self conscious when she saw me and continued as if she had not been asleep. She was very funny when she did that. One thing you may also want to check, does she have arthritis? That can be painful when they are older and most older cats get it. It can easily be relieved by administering Cosequin/Glusamine Capsules emptied in their wet food. It really made a difference with Claire. If they stop eating it is not good because they don't get their pain meds and it is not good for them to not eat. good luck


• Canada
12 Feb 08
I'm wondering just how long you expect this cat to live. Don't you know it's natural for a senior to need More sleep than a Junior? This cat is the equivalent of 95 in human years and you expect it to romp and play all day like a kitten. If I were you, I'd be looking for a Replacement. This cat won't live forever!

• Malaysia
12 Feb 08
I would like to make a suggestion that you could try to give it some of its favorite food than you could see whether it likes to take it as before. If it has a normal appetite then there will be no problem as long as health is concerned. If it refuses to take any food we could suspect that it has some problem with its health and it is time to seek for medical treatment. Anyhow old animal tends to becomes sluggish and inactive even though they are perfectly healthy.