Valentines... any idea?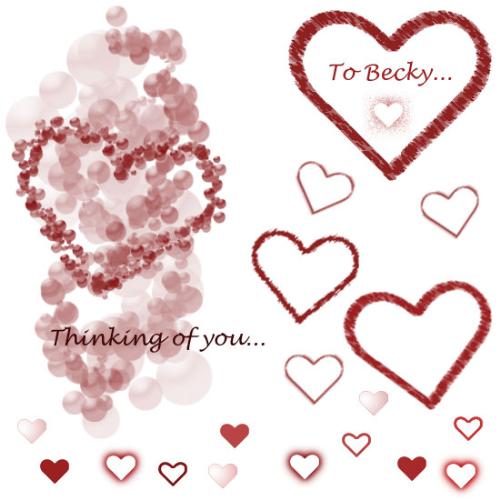 Philippines
February 13, 2008 11:22am CST
Hi there! its valentines once again and expectedly, many couples now are busy in preparing or thinking of the best place, dress, gift, songs, etc. for their love one's. It's kind a funny thing because flowers are sold very expensive every valentines day. Why does majority of the girls love to receive flowers on this day... maybe because it is in their mind set that says they should receive flowers from their love one. Well, I've been into a long distance relationship right now and I could not enjoy the celebration of the heart this year but i rather spend time facing my computer and chatting with my girlfriend for the whole day. I think its the best way to celebrate valentines with her... aside from that, i made her a love letter as a sort of a gift (of course their is nothing more i can give her aside from letter, any other idea?) so that she could feel the spirit of valentines.
5 responses


• United States
14 Feb 08
I think i have answer for one of your question about why girls want flowers for Valetine so bad.. Maybe becuase they don't get it in the rest of the year, so at least they want to recieve flowers for Valentine? And to another question, what else you should give her? maybe you can write her some poet, if you are good in writing. But i think letter would really make her happy, because it would make every girl happy. have a lovely Valentine

• Netherlands
13 Feb 08
Hi lextoper, I think you chatting with here is a great way of celebrating valentine. Just out of curioucity why didn't you go to her? Another nice thing to do (something I did last year when i wasn't around to spend valentine with my girlfiend) is to take your girlfriends name and search for songs she likes. Then combining the first letter of each trackname into a word or sentence (her name for example). My girlfriend just loved it. You could also sing a song to her :P on youTube but I guess you would have to have a good voice for that (something I dont have) With Kind Regards (and a happy valentine ;)) MOnline

• United States
13 Feb 08
of course their is nothing more I can give her aside from letter, any other idea? There is a lot of stuff you could have given her. The post office would have been happy to deliver it to her for that special day. Please don't say there was nothing else to give. yes the letter is so very sweet. I am so sure she is going to love reading it as well. But,dear a package could have been sent and she could have opened it while chatting with you online. Targt,walmart,the supermarket,the dollar store,etc they all have gifts you could have mailed her.

• Philippines
13 Feb 08
Yes, i've think of it already but my problem is, i don't know how to do it and i don't have enough "resources" for that thing. Honestly, i love that idea but for now, i still need to save money and know how to process it. That was a smart idea you have there... happy valentines giftandbagscom.