She has done it again....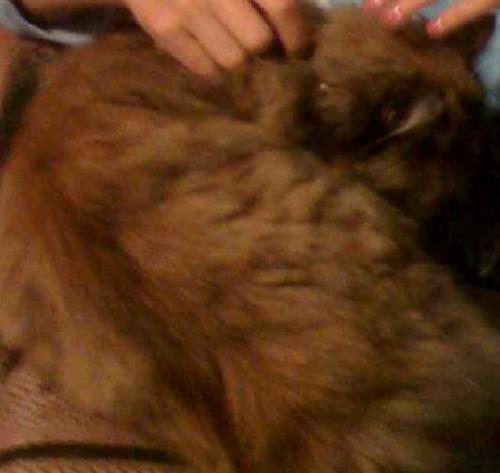 Australia
February 14, 2008 6:46pm CST
Yes, that's right. My cat is in hiding because I have to take her to the vet for her annual vaccination. I told the vet once before that she has ESP. I even bought her a lovely new cat carrier yesterday. It was hidden, so that wasn't the tip off. The appointment was at 10.00am today. I fed her early this morning at 7.00am, as she was demanding food. I kept he out as usual, as I knew there was no way I could keep her in for 3 hours. When the time comes, I ca;ll & call... no response. I checked her hiding places... not there. I even took her cat food.both dry & tinned outside & madenoi8ses with it... no response. I have had to cancel her appointment. We go through this fiasco every time, as somehow she "knows". The photo is a close up of scamper being smoochy!
6 responses

• United States
15 Feb 08
LOL I know the frustratation, my cat does the same thing. He only has to go to the vet about once a year but goes to the groomer every month and he somehow knows when he is scheduled to go. He usually hides under the bed and it is next to impossible to get him out because he is a big boy (weighs 23 pounds.) I threw my back out once getting him out and into the carrier so I don't attempt that anymore.

• Australia
15 Feb 08
Gee, he must be huge! I made another appointment for my cat to go to the vet at 12.10, but they want me to ring them at 11.00am to see if I have her inside. That means I will have to have her in the cat cage for over one hour!!

• Philippines
16 Feb 08
you know what, i read an article before that cats can have ESP powers, would you believe that?! haha but yeah this is a true story i thought only humans have that gift.. imagine kittens/cats being able to predict the future! that would be crazy! but this cat apparently predicted and saved her owner! here's the link if you wanna read it: http://cats.about.com/od/felinehumanbond/a/patches.htm

• Australia
17 Feb 08
I could well believe that. I read the story in the link you provided. Truly amazing that this cat had guessed his owner was in serious anger. And that the cat had the empathy with the owner to want to wake him to "warn" him. I fully believe this.

•
16 Feb 08
One of my cats hates being put in the cat carrier, luckily they rarely have to go in them only normally when I'm moving house, it takes ages to get her in and she meows all the time she's in it. The other one you can get in the cat carrier OK but if you put the cat carrier in a car and start driving she freaks out and makes this pitiful meowing sound like she thinks the world is ending or something.

• Australia
17 Feb 08
I know the feeling. One of ,my cats carries on all the hole time whilst in a cat carrier. The cat I am trying to get to the vets for her vaccination, is remarkably calm in a carrier, so I dont know why she hides & when she has guessed what is happening. Maybe she can think beyond the carrier, to the visit to the vet.

• Philippines
15 Feb 08
Wow... your cat might be somewhat magical... like the one that they have in movies... or Crookshank... Hermione Granger's cat in Harry Potter... Cats are very intelligent pets... i think more intelligent than dogs... but they are just too proud to be trained... i never had a cat as a pet... they frighten me a lot... and your story about yours gave me the chills...

• Australia
15 Feb 08
There is no need to be frightened of cats. They give so much love and devotion to their owners. But they are independant. I dont know if my cat is magical, but she is very intelligent, & does "know" things. Cats having a second sense has been reported by numerous people, like the cat in the nursing home.

• United States
15 Feb 08
thats so funny, you go one smart little cat here you'r dealing with.. if i where you i would make the apointment as early in the morning at that time the cat is hungry and demanding food .. and after i feed her ,,i put her in the carrier right away befor she escape..lol

• Australia
15 Feb 08
I would do that if I could, but the vet opens at 8.00am, & I need to leave to take my daughter to school at that time.


• Australia
15 Feb 08
Well, I suggested to the vets secretary that as soon as she voluntary comes inside, that I ring to see if they have a vacancy. They weren't too keen on this idea, as they like every appointment booked in advance. But last y6ime I tried making other appointments, I was constantly ringing & cancelling them.