Spinelli


United States
February 15, 2008 7:01pm CST
The spoilers say that we will find out who Spinelli's father is and that Jason will help him keep the secret. I wonder who it could be. It could be Anthony Zacharra or Trevor Lansing. That would be bad enough news to not want to publicize. I had thought it would be nice for him if his dad was Alan Quartermaine. Then he and Jason could be brothers. Anybody else have a brilliant idea?
5 responses

• United States
16 Feb 08
That spoiler seems like it has been out forever! Have you noticed that? Other stories have come and gone and there is still nothing even pointing to Spinelli looking for his father. I don't have any idea who it could be. I suppose it could be Anthony or Trevor. I sort of imagine it would be someone who really hates him. Or, at the very least, is really bothered by him. My thought is Luke. He wouldn't want Luke and Lulu to find out given his possibly incestuous feelings for Lulu. Or, Mac given how Georgie felt for him while she was alive, and how Maxie hates him...unless she is in need of his hacker abilities.

• United States
16 Feb 08
It would make for an interesting story line. It would probably be better for Mac to be his dad because he and Georgie never actually got too close for comfort. Is OLTL actually doing a storyline where the characters know that they are related? Or, are they in the dark about it? And, GH has actually done it anyway...sort of. With Sam and Alexis being mother and daughter and Sam having also slept with both Ric and Sonny whom Alexis has slept with. Sam isn't technically biologically related to either of them but, they could have been her step-fathers.

• United States
16 Feb 08
One Life is doing a story where the guy that Natalie is in love with is pretending to be Asa Buchannon's son, which makes him her "uncle". The ick factor is there even though they never slept together, they wanted to. And they can't just turn off those feelings.


• Canada
17 Feb 08
Could be Kate's secret... he could be hers and Sonny's. It would be nice for him to be a Quartermaine since we don't have many left

• United States
17 Feb 08
That would mean that Kate just dumped him off somewhere when he was born. Didn't we first meet him at his grandmother's house? I suppose Kate could have given him up for adoption and is going to tell Sonny now and then the search could lead to Spinelli. I think Spinelli would love to have Kate as his mom, but hate to have Mr. Corinthos Sir be his dad.


• United States
16 Feb 08
I love it to be sonny as he has the father of the year award from me. I don't see it being Anthony as it's no point to the maddness.

• United States
16 Feb 08
I don't think Sonny could hate spanelli for that. He never knew his father.

• United States
17 Feb 08
I both could and couldn't see Sonny hating Spinelli for being Anthony's son. He could because it is practically his job as the resident mob boss. He has to automatically hate everyone connected to his enemies. Even if they have only just discovered their connection. And, he already gets annoyed by Spinelli so his excuse could be "I knew there was a reason I never liked that kid". But, I could also see him turning a blind eye to the connection because of the close relationship that he shares with Jason. To tick off his henchman would only cause more headaches in an already frequently strained relationship...as Jason and Sonny keep doing a lot of arguing lately.

• Canada
19 Feb 08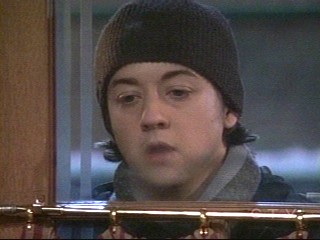 You know, this is a very interesting question and I am so glad you asked. Spinelli was never meant to be a long term character, but now that Bradford Anderson has been such a hit with the fans, Iam so glad they have decided to make him permanent and to also give him roots. To this end, I feel like Kate is hiding alot more of her past and there is still much story to be told, Was wondering if part of the reason, she left Sonny standing on the street corner so many years ago is because she may have been pregnant. Sonny and Kate may be parents. The granny that raised Spinelli so far away may also be Kate's granny. Just something I have been mulling over in my head for awhile now, that may or may not come to pass. Just wanted to throw that out there....

• United States
20 Feb 08
It never occurred to me that Spinelli's Granny could really be his Great-granny. That would explain how his last name isn't Falconieri. I am so glad they kept him. He is adorable and quirky! I think I want him to find a nice girl and be happy finally. Georgie would have been perfect for him.

•
4 Oct 08
I think that sonny is the father and that kates cousin olivia is the mom! I hate that cause I am rooting for kate and sonny. It would be nuts if he is a Cassadine!!!! You never know with GH. Maybe it is rics????


• United States
17 Feb 08
I don't think Stone Cold is old enough to be Spinelli's dad. What if he is Brenda's and Sonny's or Brenda's and Jax's? That could work. I still want him to be Alan's long lost son and Jason's brother. Jason already treats him like a pesky little brother.

• United States
17 Feb 08
I think he is still too old to be Brenda's son too since she and Jason were around the same age. But, then again, they aged Lulu, why couldn' they age Spinelli in abscentia before he came onto the show? But, I still think that that would be too much for the fans to swallow.