Tracy Quartermaine's hair...

United States
February 15, 2008 10:37pm CST
I love it! How do you all feel about it? I think that it makes her look a bit younger and, it is totally her. It is a welcome change from her bob. As long as I have been watching GH, she has had varying lengths of bobs. I love her new style.
6 responses

• Canada
19 Feb 08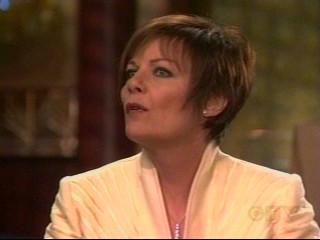 Loving Tracy's new hair cut. I feel she is one of those women who never gets older only better! The haircut helps her look younger and not as tired looking either, A totally different look for her that suits her to a tee! Go Tracy!Here is a picture attached.


• United States
17 Feb 08
I bet she has gotten a lot of positive feedback about it. I read an interview with her where she said that that is the number one thing people compliment her on. She said someone always writes her about how shiny her hair is and how pretty it is. I haven't heard or read one negative comment about it so, I bet she has just been sitting pretty on Compliment Hill!

• United States
17 Feb 08
I love her Hair and I love her new attitude to Luke!

• Canada
17 Feb 08
I love her hair!! It seems like her clothing style has changed a bit too she looks younger and more alive. She was always wearing weird jackets with high collars looking like the witch from Snow White. She looks more human and acts more human now.

• United States
16 Feb 08
I have to agree. It looks so much better short and sassy like that. I was so shocked when I first saw it. She has always had that bob for as long as I've seen her. I wonder if they suggested it or if she told them what she wanted to do and asked permission.

• United States
16 Feb 08
I was shocked too! I did a double take! I bet she had to ask permission. I have heard of actors and actresses begging to change their hair by the length or color, or men asking to grow or shave facial hair. I have heard that they have to get permission because it is in their contract. i think that sucks but, they do make a lot of money and they are the product so, there probably has to be some kind of compromise.