Where To Bury A Horse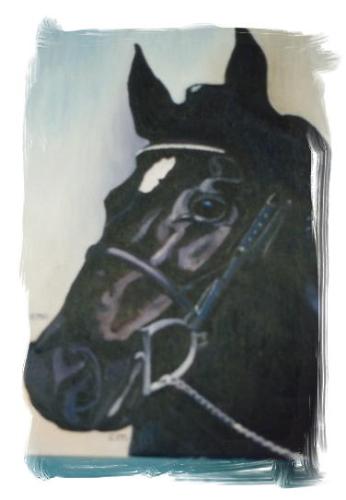 Canada
February 16, 2008 7:11pm CST
If you bury him in this spot, the secret of which you must already have, he will come to you when you call; come to you over the far dim pastures of death. And though you ride other living horses through life, they shall not shy at him, nor resent him coming. For he is yours and he belongs there. People may scoff at you who see no lightest blade of grass bent by his foot fall, who hear no nicker pitched too fine for insensitive ears. People who may never really love a horse, smile at them then, for you shall know something that is hidden from them and which is well worth the knowing. The one place to bury a horse is in the heart of his master. - Author Unknown
4 responses

• United States
17 Feb 08
Oh how beautiful. I have wanted to own a horse since I was a little girl yet I don't think I will ever get to. The closest I have come to this dream was galloping down a beach atop a brilliant bronze stallion named Arab while I was on vacation last summer in Grand Cayman. I never felt as free as I did during those moments. Thank you for posting this.

• Canada
17 Feb 08
Well thankyou for sharing your thoughts with me because I want to tell you this. I don't know how old you are but don't ever give up your dream of having a horse. I was fourty when I finally fulfilled that girlhood dream of being around horses and went to work, ride and learn on a working horse farm for almost two years. It was a dream come true and was the best decision and experience of my life ...ever. I never rode much at all before then, but I knew it was something I always longed for deep in my soul. I still do not have my own horse but I am getting closer and closer to that dream every day. I have my farm and a barn and lots of acreage by a tidal river. This didn't happen over night but with commitment and hard work it's coming together. Don't give up on your dreams. I have a special horse journel I was given by one of my horse friends. It has some beautiful sketches of horses and quotes. I want to share one of the quotes with you, that to me sums up how I felt as a girl. "One of the earliest religious disappointments in a young girl's life devolves upon her unanswered prayer for a horse." - Namaste - Catherine

•
17 Feb 08
When I was a little girl, my Dad always said he wished he could get me a horse..Well, my Dad passed away about 20 years ago and I finally had the opportunity to get my horse. I named him Chaz, after my father whose named was Charles. Each time I am with him I feel as though my father is looking down on me and smiling.. I was 53 years old before my dream came true to have my horse but I enjoy him more than anyone could understand except for a horse owner. He is my friend, my confidant, my escape from the problems I face each day in my life. I do not ride him as much as I would like as he is at my daughters' farm, not too far away, but with working each day, it is hard to get out there as often as I would if I were not working. Oh, how I love my horse....It took me until I was 53 to get him, but he is mine now and I will love him forever..Don't give up on yours dreams - never give up...God Bless and look forward to the time when you have your own horse because you will if you really want one....

• Australia
17 Feb 08
OMG. You made me cry. I lost my first (and probably only) horse just over 2 years ago. He was 37 years old, a Clydesdale cross Percheron. Old and wise, magnificent and loving. I spent all of my savings to have him buried in my backyard (backhoe's aren't cheap you know!), facing my residence. I plaited and cut off some of his tail to keep. It holds pride of place on my dressing table. I miss him so much and still think about him everyday. The surf company Billabong says 'only a surfer knows the feeling'. Well, they're wrong! I have owned many pets whom I have loved for their lifetimes, but nothing comes close to the bond between a horse and rider. R.I.P. Molly.

• United States
17 Feb 08
Wow, that was really neat. I may have to save that to get on the marker for our horses that have passed on to greener pastures. They're out in our pasture, at the top of the hill by their favorite tree. Unless you have owned a horse and become one with them, one can never fully realize the power and grace they have. I watch with awe my horses, and I love them each and every one. They are a part of me, just as my children are.

• Canada
17 Feb 08
Thankyou for sharing your thoughts on this. I belong to a site for Canadian horse lovers and owners and I found it on there. To me it expressed the relationship and love you feel toward a horse. They are such spiritual creatures. It is very true that you become so bonded and when they die it is very difficult to deal with. The same as losing a family member. Animal lovers and horse lovers are the only ones I believe that truly understand this. Namaste - Catherine

• United States
17 Mar 08
That was so beautiful. i have one horse and she has given me two babies going to give me a third one in may. i got her for two hundred dollars and she was emaciated so bad. i got the vet out and i started graining her with horse feed and hay. thought that she was going to lose the baby. but she gave me a colt i named him cheyenne. he is a blue roan that can't make up whether he wants to be red or blue lol. she is a spanish barb mustang. her name is cherokeegirl. we have an understanding. the people before he must have hurt her bad cause i can not get a saddle on her. when you go to cinch it up she goes crazy but you can get on her bare back. last year she gave me another colt he was born in the early morning. he is a buckskin and i named him morningstar. this one she has now is i hope a paint. Next time i breed her it will be to my palamino commanche. he is such a great stallion. he is going on three and i am going to send him off to get broke. i cannot get on their backs so i let my grandchildren to the riding. i had surgery on my bladder and the stupid doctor conected my bladder to the tendons in my legs and it hurt so much to get up there on their backs. but i have been up once and it is wonderful sorry i have gone on and on but i love the horses. take care and god bless