What does your flag symbolize?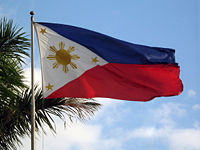 Philippines
February 17, 2008 8:27pm CST
Each country has their own flag and each flag has a history. I am from the Philippines and our national flag is a horizontal bicolor with equal bands of blue (which stands for peace, truth and justice) and red (which stands for patriotism and valor), and with a white equilateral triangle (which stands for equality and fraternity) based at the hoist side; in the center of the triangle is a golden yellow sun with eight primary rays (which represents the first eight provinces), each containing three individual rays; and at each corner of the triangle is a five-pointed golden yellow star (which represent the three major geographical divisions of the country...Luzon, the Visayas, and Mindanao). The flag is displayed with the blue field on top in times of peace, and with the red field on top in times of war. How about your flag? What does it symbolize?
4 responses

• Australia
18 Feb 08
The Australian Nation flag is Australia's foremost national symbol.It was first flown in 1901 and has become an expression of Australian identity and pride. The Australian National flag has three elements on a blue background:The Union jack,the Commonwealth star and the Southern Cross.The Union Jack in the upper left corner acknowledges the history of British settlement.Below the Union jack is a white Commonwealth of Federation star.The star is also featured on the Commonwealth coat of arms. The Southern cross is shown on the fly of the flag in white.This constellation of five stars can be seen only from the southern hemisphere and is a reminder of Australia's geography. Other offical Australian flags include the Australian Aboriginal flag,the Torres Strait Islander flag and the ensigns of the Australian Defence Force.

• Philippines
18 Feb 08
Thank you for sharing that! It's very informative.

• United States
18 Feb 08
The US flag "The colours of the pales [the vertical stripes] are those used in the flag of the United States of America; White signifies purity and innocence, Red, hardiness & valor, and Blue, the color of the Chief [the broad band above the stripes] signifies vigilence, perserverence & justice." http://stockholm.usembassy.gov/usflag/colors.html

• United States
18 Feb 08
According to the book "Our Flag," published by the House of Representatives, "The colors red, white, and blue did not have meanings for The Stars and Stripes when it was adopted in 1777." It goes on to say, on page 41 (page 47 of the PDF version)[8] that the colors of the Great Seal of the United States, when it was adopted in 1782, were defined thus: "White signifies Purity and Innocence; Red, Hardiness and Valor; Blue signifies Vigilance, Perseverance and Justice."[9] http://en.wikipedia.org/wiki/Flag_of_the_United_States

• Philippines
18 Feb 08
Hi dolce_vita! I am from the Philippines too and you have already accurately gave our flag's description! LOL! I have nothing more to say except for this simple additional description if I may, I will just add on the symbolism of the eight rays of the sun. The eight rays symbolizes the eight provinces that led the uprising against Spain who have colonized the Philippines for almost a century. Just my thoughts. hehe..Take care and have a nice day kabayan! :)