do you listen to arabic music??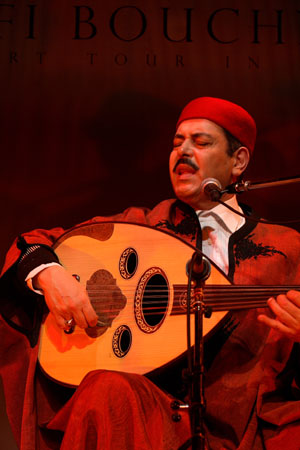 Israel
7 responses

• Pakistan
19 Feb 08
Hi dear well i am not arabic and cant understand arabic much, but still i like to listen arabic/labnese music their beats, their music is really soothing and intresting so as i dont know arabic so cant name any singer. may be sound weired but its true. some times u like the music without knowing lyrics Take care

• Israel
19 Feb 08
yeah i agree with you cupid, sometimes we like songs but we do not understand what it say, like greek songs, or spanich, i like the music the beats, but really i do not understand any thing, tell me cupid you do not know any arab singers ?? like elissa or amr diab there are very famuose in all over the world and they do parties in many different places

• United States
19 Feb 08
hay cupid .. i didnt know you listen to arabic music :D i wana know what the names of the songs you listen to .. and your right , i allways listen to indian music and i dot know the translating.. i like dus , tere liya , and layi vi n gayee .. i allways cry when i hear it .. sorry mrmr i talked about indian songs lol

• Pakistan
20 Feb 08
Hi Mmr and aconites yeah u r right, the musuc, beat of instrument and how do they play, its sooting, ur feet tap with their beat. well some times i have arabic channel on my cable then i watch them and i am really bad in remembering names of singers . actors and i am not specific, i can hear anything i like even the singer/actor is anonymous and some times i only go for instrumental music, just instruments playing and no song or lyrics Take care


• United States
19 Feb 08
i listen to arabic music all the time .. i love rai music alot ,my favorite rai singe is cheb faudel .. as for others arabic music my faovite singer of all times is amr diab , i listened to all is albums .. but i like the oldest one better.. i also like kathem al saher. his songs are very sad .. (heart breaking) i think i like sad music lol and i listen to others like wael kafori and fadel shaker.. mrmr you didn't say anything about your self who d you listen to ?

• Israel
21 Feb 08
hi aconites.. i am like you listen to arab music all the time, i like amr diab kazem el saher and my favorite is tamer hosny, i like the songs with a strong beat that make us want to dance like a pop music, but why you like the sad music?? do you like the quiet?? or something else? i don't listen to rai music, i know cheb faudel but i don't listen to him, i know him from my sister, she like to listen to this music and like cheb faudel, so i know him from her, but i prefer the egyption music and lebanon one :)

• United States
21 Feb 08
i like the sad music cause there words are very powerfull and it make you feel the singer's pain .. i think its my type of music cause i dont like the beat to be too much i like the lyrics more.. as for cheb faudel you have to listen to him .. he is great .. you will know what i mean when you listen to his songs ..i love him lol

• Singapore
21 Feb 08
No, i never listen to arabic music. I listen already French, Japanese, Carrabean music, Hawaian music, Spanish music, but not yet for arabic...



• Philippines
16 Jan 10
HI! I'm here in Saudi Arabia, as part of my learning in arabic languange, I am fun of listening the local radio station here. The music is nice, just like a lullabys that makes me sleep on nights.