Jonathan Jackson...

United States
February 19, 2008 9:02am CST
Does anyone else watch Terminator: The Sarah Connor Chronicles? Last night's episode had a familiar face. Jonathan Jackson who played the original Lucky on GH, played Kyle Reese (John Connor's dad) last night! So, he looked somewhat familiar but I was unable to place his face until I started recognizing his voice. Then, it was like a lightbulb went on. He looks really good! Did anyone else watch it and recognize him?
2 responses

• Canada
19 Feb 08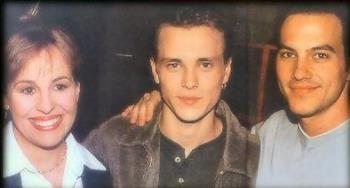 Yep, I tend to agree with you all. Lucky really did die in that fire on GH when we lost Jonathan Jackson. The second Lucky Jacob Young was never a Lucky and Greg Vaughn try as he might, does just not seem to be Lucky either. (IMO) Now, what did Helena really do with our Lucky is what I still wanna know and who is this Lucky, an impersonator?? lol! I love to see though that Jonathan Jackson has had such a successful career, good for him. I try to watch him in his different endeavours whenever I can. Loved him in 'Deep End of thhe Ocean' too! JJ was our real Lucky and he will never be forgotten to fans

• United States
19 Feb 08
So true! I have missed him ever since! He looks like he put a little bit of weight on. Not bad weight. It just filled out his cheeks a little. He was sporting some scruff for the scenes he was in. He looked really hot! I can't remember if I saw Deep End of The Ocean. I have a pretty bad memory. I'll have to see if I can catch it on my Tivo and then I'll know if I saw it! He will always be missed by me. Unless GH can come up with someone comparable to his talent to replace Greg Vaughn, I will just never like any other Lucky. I'm glad to see others feel the same way. I used to post on the Soapnet board before it got blocked at work and it seemed like most people really liked Greg Vaughn as Lucky. I just don't see it!

• United States
19 Feb 08
I didn't, but you got me thinking. I liked Jonathan Jackson as Lucky. He was so sweet and cute. I don't like the current Lucky as much, although that could be partly because of where they have gone with his character.

• United States
19 Feb 08
Jonathan Jackson was my favorite Lucky! Lucky has never been the same since Jonathan left the role. I have never like Greg Vaughn. And, I tried to like him. Sometimes, when a role switches actors or actresses, the new person grows on you. Laura Wright as Carly is a prime example. I loved Sarah Brown as Carly and everyone after her just ruined the character for me. Then came Laura Wright. They really need to find a more suitable actor for Lucky or bring Jonathan back!