Time to cash in those cans.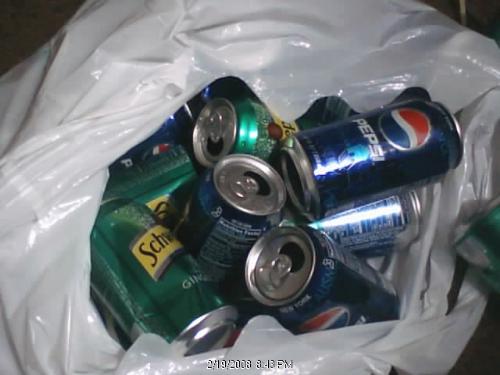 United States
February 19, 2008 7:49pm CST
I have been saving cans since July to pay towards my daughters graduation. I have to now get them all out and sort them. I have my aunt saving them for me as well. It's nice to know I have people helping me. I just picked this bag up from my mother. Give me some tips to getting more cans please. I pick them up if I have a bag put over my hands. Thanks so much
10 responses

• United States
20 Feb 08
I once went along side the roadways to look for cans that people carelessly tossed out the windows of their cars. You could also check the trash cans that are in public places. Bring along a pair of disposable gloves to wear so you can retrieve the cans in a sanitary manner. Put them in a washable, reusable bag to carry them home.

• United States
20 Feb 08
I am going to see if my sister will save me some cans. She is so very proud. She works at a school and once I was passing by. They had about 6 cans in the trash can. I took them out being I was on my way home. :)

• United States
20 Feb 08
I have always saved cans...it started when I lived in New England and paid the deposit when I bought the cans, so I wanted my money back! I like the machines they had at the grocery stores there for the cans. It was great to buy soda in RI and then cash the can in MA or CT. Now I just bring mine to a place that pays anywhere from 40-70 cents a pound, depending on the day. When we were growing up and saving for a trip to Disney World we collected cans. We went to the beach. I didn't mind picking them up off the ground but I can't trashpick. That's gross.

• United States
20 Feb 08
Your so funny Crazy lady, I will have the hardest time with my daughter picking up a can. Now pick them up when I have a spare bag. Not if I have to use my hands. LOL Thanks

• United States
20 Feb 08
hehe, I like saving cans myself.They do bring in some money when you definately need it.How many bags do you save up?I trying to save up many right now. And on the tips,How about picking some off of the side of the road near your house where you live?And how about like if you work,get them there that ppl leave around the breakrooms,and outside,etc.There are many ways to find empty cans that we can get to put with our collections.I like to take walks around my neighborhood,and if i see any,i stuff them in the plastic trash bag that i bring along with me.It helps me get more cans.

• United States
20 Feb 08
I sorted out three bags last night. I have more in the storage closet. I counted out over $5.00 in cans as well. I have to finish most of them today. I have to go to pepsi stuff and add my codes as well. Thanks


• United States
20 Feb 08
I forgot all about that. I can find one in the stores here. Thanks so much

• Canada
8 Mar 08
You have to explain something to me. You get money for cans? Is it from a recycling centre or the store where you bought them? We don't get any money for can in Ontario. If I did, I would raid the recycling bins at work.

• United States
8 Mar 08
yes I drink soda and save the bottles. We get .05 for each one we recycle. I have my mother and aunt saving them for me.


• United States
15 Mar 08
we save cans. and crush them and bag them. now we wait. we wait for the exchange to go up again. It is 40 miles each way to the recycle center and we want it to be worth our trip when gas is over $3 a gallon. the last time I took back cans I was bummed that they were only 55cents a pound.... it had been up to 72 cents not long before that. so I will periodically call and get the rates. I want it to be worth the while to do so, if it cost me more in gas than the money given back it is not worth it. there is a discount bread store near the recycle center so I like when I can redeem the cans, get gas, go to the bread store and still have some money left when I am done. I really miss ny where we could exchange for a nickel each can rather than per pound... also having the vending machines to accept the can was a great idea. right now we more than 4500 cans crushed (lost count after that) I think there is around 55 cans to the pound... so if we redeem 4500 we would be getting paid for around 90 pounds. If we are able to get 72 cents a pound that would be a whopping $64.00 that could pay for my gas, bread, and a little left over.

• United States
16 Mar 08
Yes I have to say Ny has the best options. But the space to save the cans I don't really have. so now I just cash in a few as I plan to walk by the store.

• United States
14 Mar 08
I just cashed my cans in three days ago for $12.75 I had 15 pounds
@
85 cents a pound. Now, If I had been in the big city where the recyclers takes there cans, I could of been paid $1.38 a pound. With gas prices as they are and the value of the cans, people can swallow there pride and start saving cans, hit the dumpsters too. Every time I go to the convience store, I always find at least 20 cans in the garbage can. That's an easy 60 cents for 15 seconds of elbow bending. Hmm... let's see,, how long does it take to make 60 cents here at Mylot ???? Worried about germs .... don't touch your face or at least keep the fingers out of eyes. If your going to pick the can up bare handed and worried about any germs, then pick the can up at the base of the can. Everyone holds the can in the top / middle, sometime cuff with a pinky under.

• United States
15 Mar 08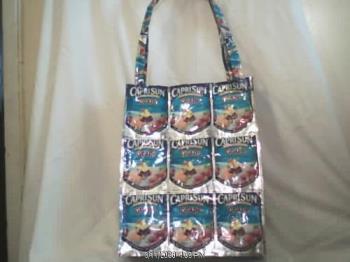 What I have done was this. I have a special capri sun travel bag. I carry extra plastic bags with me. I just take one and cover my hand with that. it works so well for putting the cans in the machine as well.

• United States
14 Mar 08
I use to take a couple of plastic grocery bags with me when I went out for a walk and would pick them up. Good exercise, cleaned up the street, and put a few pennies in my pocket. We drink very little soda so rarely have cans here, but warmer weather will soon be here (I hope!) so maybe I'll take the bags with me. I don't think anyone around here pays for cans, though. The garbage service we use does recycle them, but I don't believe they compensate you for it.

• United States
14 Mar 08
I went out yesterday to cash some in. When I pass my houses with recycling bins out. I will take the soda cans from there as well.

• United States
9 Mar 08
I love saving aluminum cans here in california. In california, aluminum cans are paid 5 cents. Collecting cans and bottles have a been a relaxing past time. When I go on my morning walk, I find cans and pick them up. At work, the co-workers drink cokes and bottled water. They all give me their cans for recycling. Some of my co-workers also save their cans from home and bring them to me. It's free money to me.

• United States
9 Mar 08
I have started on my way to the next batch of cans. I will cash these out in June. That way they can be a decent amount. I have help from my family as well.


• United States
8 Mar 08
Sad to say I am so glad I don't need to find out. She was hit by a car. I have set aside her college money. :)