How often do you exercise?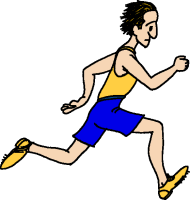 Singapore
9 responses

• Pakistan
20 Feb 08
Exercise whats that never heard of it since last 10-12 yrs

• India
20 Feb 08
Hi, I exersixe daily. I like doing exersixe and it more of like habbit to me. U got to enjoy it and then u will get interest in that. If u dont like gym try aerobics or yoga. These days we need to exersixe to reduce stress from out life. Try carrying i pods or disc man with u in the gym. Music does a lot of good to our mood. Cheers, Tutul

• United States
20 Feb 08
Yeah, I exercise. I Play some basketball and lift weights. I wouldn't exactly say not exercising is bad because theres other factors like genetics and what you eat. Who knows, you could be the one still alive even though others exercise. Move at least. You can move can't you?

• United States
20 Feb 08
Since I am a professional dancer, it is usually for several hours every day at least... I am weird in that I actually love exercise!


• United States
20 Feb 08
i am like that too but i know if i want to do anything i have to get active. that is what anything in life. if want to see result then i have to get active

• Nigeria
20 Feb 08
Im in you shoes, I only remember to do a simple exercise when my ankle or bone aches. Im so lazy at that also. Hahahah!

• India
20 Feb 08
I try to do Yoga twice or thrice a week but yes I do walk almost daily except sunday because even if I am free I dont feel like walking and take a break..I would like to give you friendly suggestion that you must make a habit to walk daily,if you feel lazy to do some exercise, to keep your self fit & fine.

• United States
20 Feb 08
I do some kind of excercise 6 times a week. I'm pregnant so this includes anything from walking to popping in Denise Austin Fit and Firm. I have to do something I don't want my whole body to go to crap because of a pregnancy. I can't wait to excercise after the fact either.