Do you like driving in the snow..how do you feel when the roads are icy?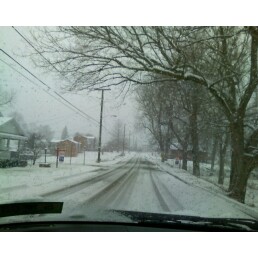 United States
10 responses

• United States
22 Feb 08
Thanks for the post. This winter I drove to church which is seven miles from my home and I was the only one there. The pastor lives next to the church and they were using the snow blower to clean the parking lot and drive way. Yes, there still was a service. The minister and his wife and also his children. But, my wife was in the Philippines for 45 days and was not here at the time. Louella was born in the Philippines and lived in Japan six years when we were married 22 years ago. But she was complaining about the heat as it gets so hot there even in Dec. Jan..so she came home with a bad cough and very sick condition and still is sick and its Feb 22 nut she is getting better. I was supposed to join her there but can not do this ..i was looking forward to getting out of this cold winter climate ..just for three weeks..but I guess not. I have lived in the Upper Pennisula of Michigan for three year in Sault Ste. Marie but I was only 21-24 but the cold and snow was OK and driving did not seem to be that bad..and later I drove a lot for a living in and around Michigan and Ohio and when you do this every day it seems normal..now I am retired and it is not so normal as I hate the snow and worse the icy roads ...and I have two four wheel drive trucks..but probably I am just getting old..lol..but I liked your pictures as you seem to be very cold and it is exciting to be the only one on the road when the weather is bad..i drove a truck from Omaha, Ne to Minn. Minnesota one year and the Chill factor was 100 degrees below zero..believe that or not..but the next day I went swimming in the Holiday Inn Pool but it was so cold that a lot of cars and trucks did not start. I had a truck with a generator because I sold tropical fish and pet supplies (but I was not carrying them at this time) but I barely got the truck started the next mornig as it was so cold..looking back I was a fool for driving in that weather...but I was 32 and brand new..lol Have nice day..thanks for the post

• United States
22 Feb 08
This is our retirement home..Maybee..?

• United States
21 Feb 08
As long as there is not alot of snow, I am ok with it. Once we get 3 or more inches of snow, or ice, I am a home body. I hate it and don't want to leave the house.

• United States
20 Feb 08
What a perfect question for today cause it is snowing here in Baltimore. I really dont mind driving in the snow because I used to live in PA, and it was something that you have to do for a big part of the year up there. My only problem with driving here is that it seems like no one in Baltimore is used to the snow, and there are accidents everywhere.

• Canada
20 Feb 08
I hate it. I drove professionally for 20 years and hated every icy and snowy morning that came up. I wouldn't mind so much if there were no other cars on the road and the sidewalks had big foam bumper bars to keep you on the road.


• United States
20 Feb 08
I really really dislike it! I am so glad that I moved to where it doesn't snow so I don't have to worry about it any more. I used to get so stressed out over it. It's not like I could stay home, I had to drive miles in rural areas for meetings, but I was usually the only one coming from out of town where it was not good to drive. I remember a number of times I couldn't get through passes or go the long way around because roads had not yet been plowed. Then when other people would be my passengers - I would worry even more. I really slowed down and would drive vey carefully.

•
24 Feb 08
I love it, I used to live in Northern NJ, and moved to delaware. Trust me when I say, People in Delaware can not drive in snow.

• United States
23 Feb 08
Ice and snow seem to be the order of the day here. Or should I say month. Every time we turn around we hear the weather man"more sleet and freezing rain. My daughter has had 3 snow days in the last 2 weeks. Having been in several accidents with my father at the wheel, I must say I hate bad weather driving. And Ice is the WORST.

• United States
22 Feb 08
My Husband does all the driving. He dosent mind driving in the snow and is pretty good about it. I dont worry about him wrecking its everyone else on the roads I worry about. The other morning it was slippery out and the whole darn town was shut down. Accidents everywhere including cops. My husband will actually go out just to drive in the snow. He loves it. When everyone else is home going oh its to crapy to be out driving..we are. LOL.

• United States
21 Feb 08
hey there joy..happy day to ya..well to be honest i hate snow and the cold and everything in between..especially driving!! it scares the heck outta me..and im thankful that Bobby is such a great driver..i live in the mts and the road is a straight shot up...and its get really sloppery and we are teh lats ones they plow and salt..so if ican help it i dont go anywhere...lol