New Kind of Fruit!!!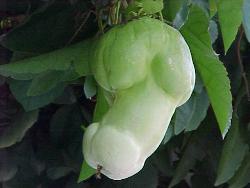 United States
October 30, 2006 12:46pm CST
*May be one Picture be more useful than one thousand words...*So this image be the solution for many different situations ....
6 responses

• Australia
20 Dec 06

Actually I doubt that it is a new kind of fruit but rather one that has grown unnaturally. This unnatural growth occurs all the time and there can be many factors which cause this to happen. Some of these strange fruit and/or vegetables are really humourous looking. Here is a photo of an odd shaped tomato, or at least a tomato with a small spout, so it looks like a teapot. :)

• United States
20 Dec 06
yes i am with u ossie...but this photo has astrange story..have anice day..bye

• United States
30 Oct 06
OMGOSH! rofl!!!! that is hilarious. is that even real?

• Kuwait
20 Dec 07
wow, its new kind of fruit, but actuallt that is "OMGOSH" if im not mistake, yup sometimes fruit decorate lot of things like apple look like a face, we can say that is new generation of design :)

• India
20 Dec 07
I like green vegetable. I have always loved veggies, so I don't think I will have to worry about not eating them, thanks for the info though. Green veggies are a good thing. Not all of them taste good, but they are still good for you.