Have you ever made a craft this odd?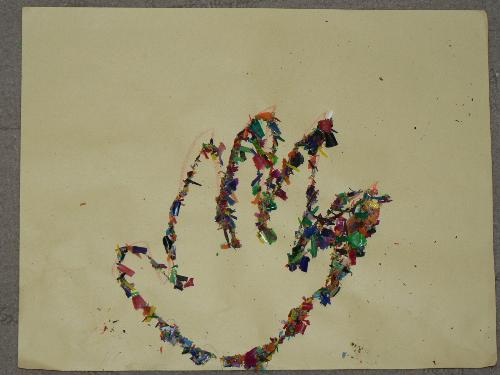 United States
February 20, 2008 8:59pm CST
I always did weird things when I was young and when my daughter and I were trying to think of something to do the other day I remembered how when I was little I would use a pencil sharpener and sharpen my dull crayons to a nice fresh point and then I would draw shapes and pictures on paper with glue and sprinkle the crayon shavings over the glue. So my daughter and I did this and it took forever we filled a cleaned out empty peanut butter jar with crayon shavings and my daughter made probably 10 different pictures. I had to vacuum my living room 4 times that day it made such a mess hehe but she had fun so thats what matters.
7 responses

• United States
27 Feb 08
when we were in 4th grade my one friend and i used to eat hard candy and then take markers and color different designs on the wrappers...then we would pur elmers glue onto it and let it harden. when it was done we'd have this colorful piece of glue I guess? That was a weird one...not hard to say I was pretty bored in school!

• United States
13 Oct 10
LOL that is pretty funny. You must have been bored. That sounds kind of like a fun thing to make though and it would give you a kind of weird after product. I have done that before but not intentionally. I would put glue designs like hearts on my notebook covers and then I would get bored and pick it off and it would come off in a hard piece that was kind of cool like you were saying.

• United States
26 Feb 08
I forgot about that kind of stuff. We used to take crayon shavings on a paper and put them in the sun to melt then fold them to make ink blots. I just threw away a ton of broken crayons tonight. Next time I'll have to melt them in the muffin tins - I like that idea, they wouldn't break so easy. Do you think a ice cube tray would work in the microwave? or would it melt too?

• United States
27 Feb 08
Thats neat I wuoldnt have thought of that but now that you say that it makes sense and would make a cool craft. I remember when I was little I would accidently leave crayons on my parents seats in the car and it would get on the seats and never come off. So they would be easy to melt on a hot day outside and I bet my daughter would have a blast making ink blots with crayons. Thanks for the idea. I'm sure also that they make ice cube trays that would be microwaveable but who knows.

• United States
21 Feb 08
What we call that is mommie and daughter day. We had so many of these. I had done so many things but have never heard of that one. I love crafts and would do this with the kids I babysit. One that I would do when I worked in day care was. To take the paper the kids drew on and laminate them. Then I would cut the laminated paper into different shapes. Then they were put on another sheet laminated to be a handmade puzzle.

• United States
12 Oct 10
Thats a cute idea. I dont have a laminating machine so that wouldnt work for me to do though. I've seen people take their kids drawings and laminate them to make placemats for the kids. You have such a large number by your name I think thats the highest number I've seen on mylot and here I was thinking how nice and high my number is getting lol.

• United States
22 Feb 08
I don't remember doing that exactly, but we did used to shave crayons and then put them in shapes on wax paper then cover it with another sheet of wax paper. Then we'd iron the paper and the shavings would melt into neat shapes and designs in between the two pieces. It was fun to mix some colors and make new colors! My girls and I all love to make crafts, so we've done lots of different things. Thanks for the idea!

• Sweden
28 Feb 08
You can make real works of art with crayons. I have made two paintings by making a background with acrylic colors and then made the pictures with crayons. It was pretty easy to paint that way and really fun. It is called mixed technique and you could also use glue with any material, pieces of yarn, pearls, small pieces of paper, well, I guess there is not much limits here, even dry leaves and other things from nature could be used. I got really inspired here, who knows what we can do when we mix different materials...!:)

• United States
13 Oct 10
I never knew that. That is really neat. I really respect art of all forms. I wish I was a better artist but I am not so oh well. My daughter seems to be pretty artistic I think she takes after her great grandmother. I used to think I was really talented until I realized that I was not lol.

• Sweden
13 Oct 10
Wooww, I had forgotten about this discussion..

Don´t worry, the art is often about a little talent and a lot of training and testing. So almost anybody can be an artist.. I had no idea how to paint until I went to a course - first about oil painting and then acrylic painting. Then I have read about other ways to use the colors and continued testing. Just continue and have fun, don´t worry about talent and you will find it inside you..



• United States
13 Oct 10
LOL I forgot about this discussion to. Your the first person who commented back from all the comments I left people lately on my old discussions. I wonder if that means they arent active anymore :( Some people just dont like to comment on discussions that are old. I never get notifications to my email that I have gotten comments on my discussions so unless like I am doing lately checking the tab that says discussions I started I dont know if anyone leaves me comments on mylot or not. But in response to what you said I truly think your either born with an artistic ability or your not. You can learn to do better but you can only do just so much without that flare some people are born with.


• United States
26 Feb 08
I've actually never done that. That's an interesting craft idea though. I'm sure the young ones would really enjoy it. Kids really do enjoy using glue, especially if that means they can do it themselves.

• United States
21 Feb 08
I've never heard of that one before. At least you could save the pictures by putting them in picture frames and have instant art!