That is my pillow your sleeping on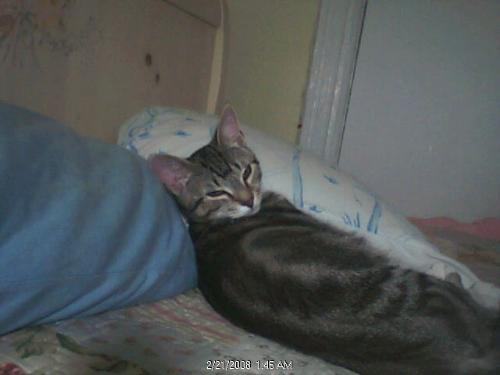 United States
February 21, 2008 12:53am CST
My cat always needs to rest his head on something. I think this boy was on earth before. he has a language all his own. he has the run of the house. Then the sweet thing has to have a head rest. But he wont sleep on a pillow I gave him. What is your animals sleeping habits? He woke up as he heard the camera click LOL
5 responses

• United States
21 Feb 08
I have 3 cats. Sydney, Martini and Purr. Sydney is both a lap cat and independent. So, if she is feeling like she wants love, she will sleep in my crossed legs. They have to be crossed or she will jump up on the couch with me, stare at my legs like they are all wrong and jump back down to the floor. Then, sometimes she will go sit on the end table or the arm of the couch and stare at me until I correct my transgression. Purr is a chest cat. She is the anti-cat. She is nowhere near independent and has to get up close and personal to your face which, can be a bit much when she talks to you and her breath nearly knocks you out. Marti is the stereo-typical cat. She is extremely independent and self-assured. But, she has a soft spot for men and boys. We have a huge black labrador retriever whom she is in love with and she will curl up with him. She also loves her daddy. She'll curl up on top of a blanket on what we call the "man chair". It is a lazy boy and when he opens up the lounger, Marti will track him down, lay down in front of him and often throws her arms out over his legs or his feet as if to say, "yup...he's mine". She doesn't tend to cuddle with me very much. She has feline herpes (not like human herpes...it is an infection in the eyes and can be spread through bodily fluids from cat to cat, usually in kittenhood. She also passed it to Sydney who is older than her). So, her outbreaks were at the worst when she was a kitten and I had to take care of her by pointing ointment into her eyes, medicine down her throat and taking her temperature you know where until she got better. My hands are the hands that she hates the most as a result. She associates me with discomfort. Unfortunately, that is probably the way it will always be with her. No matter how gentle I am now, she only really cares to remember that I did stuff to her that she didn't like. It is a bummer because I love her but, I would rather she be a healthy cat than have her be sick and cuddle with me. The price we pay as mommies.

• United States
22 Feb 08
I can't stand when fluffy is near my face. His nose is so wet and that drives me mad. So now I just scratch his head and boy does he love that. I have never smelled his mouth. He licks his wee wee so I am glad for that. :)

• United States
22 Feb 08
Purr's nose is wet too and sometimes it actually drips. And, she drools sometimes. I know weird. But, she is healthy, according her to very reputable vet. So, for her to be so close to my face is something I don't handle very well. I can't help but smell her breath because she is very chatty and when she says something to me, I get a face full of bad breath! I would rather not! Trust me! I forgot to say the one way that Purr likes to lay on the floor. She will roll over onto her back and spread her legs out. That is why the hubby and I call that her Hustler (magazine) pose. LOL!

• United States
21 Feb 08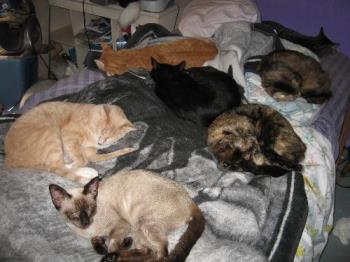 My cats love to sleep with me. I love sleeping with them, most of the time. Pong loves to rest his head on my hand or arm, I think its so sweet. Pong may not be Mr. Personality like his brother Ping, but he's very sweet. I love it when Ping, Pong and Timus are all trying to get the closest to my face! Timus will even wash it!

• United States
22 Feb 08
Am I seeing things? Do you have 7 cats in your bed?

• United States
22 Feb 08
Yep, that's 7 and the Siamese in the forground has since found a new home. Its still less than a 3rd of the number of cats in the house, but most of the cats you see on the bed will sleep with me, given a chance. Even then Ping and Pong aren't on the bed in the pix, the ginger cat on there is my Taj.

• United States
21 Feb 08
I have a cat who likes to sleep on my shoes. She likes my dirty tennis shoes. Once I wash them, she's not much interested in sleeping on them. She also sleeps against my chest at night. I turn over, she turns over. I don't let her sleep on my pillow and actually block it during the day especially if I'm not home. Am not willing to share my pillow with a shedding cat...lol

• United States
22 Feb 08
My cat rests her head on my pillow just like in your picture. Sometimes though she would rather have her entire body on the pillow and she'll try to kick me off it (literally) during the night.

• United States
22 Feb 08
My cats like to be on a pillow too, but usually they curl their whole body up on one! My dog, on the other hand, just likes to have her head on a pillow. When I leave the house in the morning, I always make my bed before I leave. When I get home, half the time, the covers are on the floor because the dog has pushed them off so that she can lay on the sheets with her head on my pillow! lol!