Flavor of Love!

United States
4 responses

• United States
6 Nov 06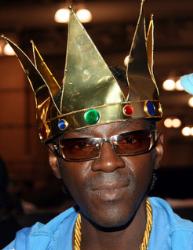 As sick as it may be, yes, hubby and I were hooked on it. I think it's the drama fest that it brings. I'm glad he picked Deelicious, but honestly, I think this season had pretty much nothing but low class broads. New York was brought back merely for ratings. She's psycho.

• United States
5 Nov 06
If I had to choose between Deelicious or New York. Yes, I'd say he picked the best one. New York, whew...she's something else! LOL...she mooned the man for crying out loud! She was very entertaining to watch though. Not a dull moment.

• United States
5 Nov 06
I watched it. It's kind of like a train wreck, you know it's going to go bad, but you just can't look away, you know?! LOL It was mindless entertainment. I enjoyed it.

• United States
30 Oct 06
I absolutely refuse to watch this show. It is TOO weird for me. The girls that are on there, are very unusual!