Quality time of love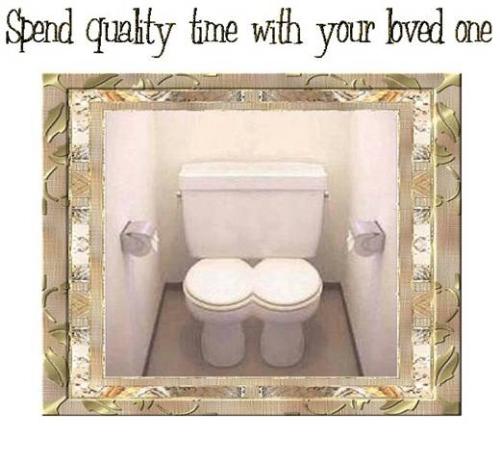 Kenya
5 responses

• Canada
21 Feb 08
I'm not so sure this would work in many circumstances! LOL! Think of the gaseous conversation! Phew! Needs dual fans, too.

• Canada
22 Feb 08
Image the sh---y conversation that would ensue on these dual thrones! I cannot imagine in this environment (with my pants down around my knees filling the air with the brown haze and/or Glade) professing my undying love! This is TOOOO funny.....probably more so, with my scatological mind!

• United States
24 Feb 08
I don't know about that either...It wouldn't work for me and my spouse no matter how good it sounds are looks...I would not go for that and neither would my spouse. That is funny as heck...thanks for the laugh dear...take care

• Philippines
23 Feb 08
Well, varieties in activities really matters. Just give your partner what he deserves. Put quality on it. And that will make both of you happy.

• Philippines
23 Feb 08
LOL that toilet seats really looks funny! now a couple can be together during their most personal time! ^__^;;