Bandana blanket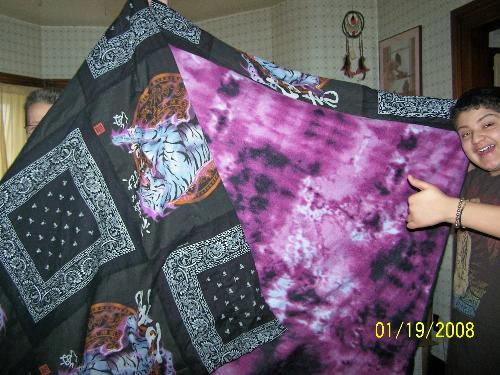 United States
February 21, 2008 6:33am CST
I have to say that I am quite proud of this! I made one for my son and one for my daughter (hers isnt finished yet) and was quite worried about how they were going to turn out....BUT it ends up my son LOVES his and my girlie can't wait for me to finish hers (which I'm doing this week)....The ONLY thing I'm NOT pleased with though is the fact that the black and white bandanas ended up being crap quality...after about 2 washes the white was completely gone so IF I start making these and selling them I'll definately have to go with slightly more expensive bandanas... What do you think? Its 6'x8' btw...
7 responses

• Canada
22 Feb 08
What a fantastic idea!! :) And it looks great too! That's a shame that the white washed away from the bandana. :( Perhaps in the future, washing them a few times before sewing them together might be the way to go? I would imagine that would help with the shrinkage of the material too. But I'm not a sewer, and don't really know what I'm talking about. lol.

• United States
21 Feb 08
I really like your blanket. What kind of backing did you use for it? Perhaps I will try making a small throw blanket to see how it comes out. It could be really interesting given the fact there are so many cool bandana's on the market to choose from. Really like your idea!:)

• United States
21 Feb 08
its bandanas on the top side and the other side is fleece and there is a layer of batting or whatever the hell you call it, sewn in between the two.

• United States
21 Feb 08
Thank is really neat. What a good idea!

• United States
25 Nov 11
that does look very cute i would like to try to make one for myself whenever i get the chance it is hard for me to find good quality bandanas also most of them are so cheaply made and after you wash them only once i once tried to wash one of my black ones and it turned the water black and stained my sink for some time i think it would be a good idea to start to try to sell them but with the way the economy as bad as it is i highly doubt that people will buy them

• United States
24 Feb 08
I've looked at bandanas and would have bought some if I had thought to make a blanket like this. Do you need the batting with the fleece on the back? Did you quilt it or tie it? Definitely going to do one of these when I run across some bandanas now.

•
22 Feb 08
so you should be proud ravenlady i cant imagine that a bandana blanket would be easy to make-unfortunatley i have never made one but should think they would sell well,but as you say maybe you will have to go with slightly more expenxive ones

• United States
21 Feb 08
It looks fantastic!!! Very inventive using bandanas too!!!