I had to take my granddaughter to my therapy session with me yesterday.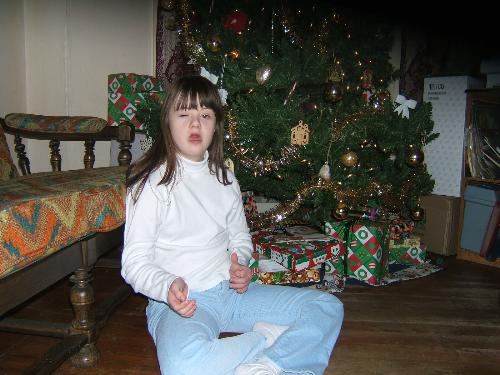 United States
February 22, 2008 10:03am CST
I've had my granddaughter with me all week because of school vacation and my daughter needed to work and of course I'm all she has to babysit. Last week at my therapy session I told my therapist all about Vicky and was going to skip this weeks session but she said it was ok to take Vicky with me. Vicky had Downes Syndrome and I knew she would be fine sitting there and really not paying attention or even understanding what we were talking about but most of the session was spent with my therapist talking to her and not me! To my surprise Vicky did more talking to her than she has to me all week and I was so happy to see her answering my therapists questions not to mention my therapist keep saying what an angel she is and how smart she is...lol. I'm sure the whole thing was a great ego builder for Vicky and I know that's something that's good for her even though that's all I do is praise her and tell her how much I love her. At one point Vicky did "shut down" and got quiet so my therapist decided to play like she left the room and we talked about my problems...lol...but that didn't last long because Vicky "came back" and started to talk again. All in all it was one of the best therapy sessions I've had in a long time!!
5 responses

• United States
22 Feb 08
Thanks for sharing that part of your life. Vicky sounds like a real blessing to you, and you to her!

• United States
23 Feb 08
That is wonderful - I know from experience that often people with downes will gravitate to particular people for no apparent reason. How great it must have been for her to feel so comfortable in a strange and new situation.

• Marion, Kansas
23 Feb 08
Isn't it nice when someone takes a positive approach to family obligations. I do not just mean you, but your therapist as well, how nice. I am sure it lifted your heart. I had my grandson today as the daughter in law and the grand daughter were selling Girl Scout cookies at the grocery store. They sold out!! and I had a good visit with my grandson.

• United States
22 Feb 08
ah, don't you just love how little inconveniences (not expecting to take your gd with you) turn out to be such wonderful events. I think it is just grand that you and your granddaughter were able to share this portion of your routine - and that you got such joy out of Vicky interacting with the therapist... I expect you were thrilled to share the days events with her mother as well... :)

• United States
22 Feb 08
I'm so glad that you can be there for your granddaughter. These kids are so special. She is probably just like most other kids. They get so used to hearing us as parents or grandparents praising them that soon they don't really hear it any more,b ut coming from a stranger it is fresh and new so means a little bit more to them.