Minnesota Meltdown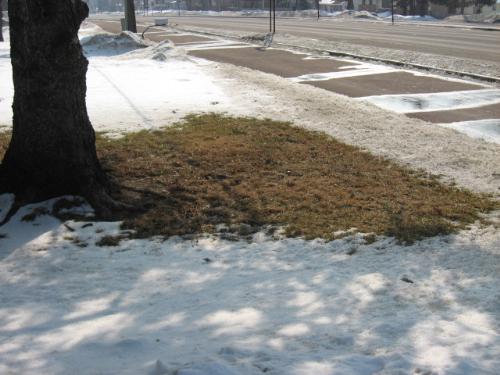 United States
February 24, 2008 1:39pm CST
Well seems the winter here in Minnesota as well as other areas this year has been strange to say the least. After a week of well below normal temps this wekeend we had well above temps. Saturday the high was 36 normal is 30 this time of year. Now today (Sunday) it is only 1:30 and its already 41 at my home. Things are melting making for a nasty drive anywhere with all the raod splash etc. The lawn is peeking through. Well the brown stuff is anyhow. Hahaha! Now we have a 40% chance of snow for Monday and we will be getting back to below normal temps once again. The wife and I are planning on taking Buster for a nice long walk later today sometime. We all need the fresh air and exercise. What has the weather been like in your area this weekend so far? Did you do anything excioting at all? HAPPY POSTINGS FROM GRANDPA BOB !!~
4 responses

• Marion, Kansas
24 Feb 08
Friday was beautiful, high forties, sunshine. Saturday, clouds, snow, sleet, rain, snow some more. I woke up to fog this morning, but now we have beautiful sunshine. In keeping with the idea of getting more exercise, I may go for a short walk. I have things to do at home, and not many days off. I am in central Kansas. I hear that down on the Gulf in Texas it is 89 degrees.

• United States
24 Feb 08
Yeah Texas has been nice the past couple of days. But spots there did get snow and ice not too long ago. They aren't immune from my winter weather. HAHAHA!! HAPPY POSTINGS FROM GRANDPA BOB !!~


• United States
25 Feb 08
Well yes but theres a saying, Don't like the weather? Stick around as it will change in 15 minutes. HAPPY POSTINGS FROM GRANDPA BOB !!~

• Canada
25 Feb 08
the weather here in montreal is crazy, just about every two weeks we had a snow storm, today it is very mild, about 37 or so. in the next couple of days it will get cold again.

• United States
25 Feb 08
Yeah same stuff here in Minnesota. A few weeks back we had a temperature swing of 63 degrees I think. From way below zero to well above zero in a 24 hour span. HAPPY POSTINGS FROM GRANDPA BOB !!~

• United States
2 Mar 08
Well i wasn't home for the last week actually Monday, Tuesday, Wednesday and Thursday... Where i was down state the weather was really cold and it was actually snowing there.. they were suppose to get a foot of snow but ended up with two inches.. So with our trip there we got pretty lucky.. When i got home though the temps were pretty good sitting in the 30's which isn't bad for this time of year either being in Wisconsin...These temp changes though aren't so great mainly one day warm and the next freezing cold with tons and tons of cloths on just to stay warm... soon enough though it will be spring and temps will stay the same in range!