Holy Tree?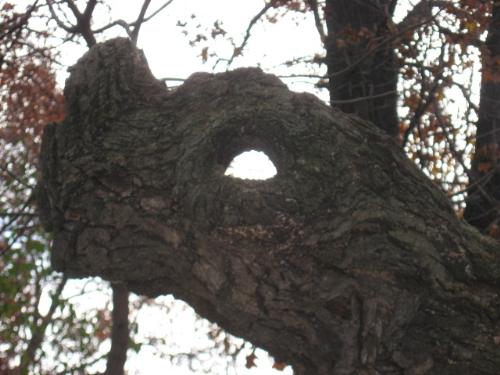 United States
February 24, 2008 2:54pm CST
This is a photo of a tree from a local Nature Center neare my home in Minnesota. It was taken in October of 2007. I love the way it grew with this hole in the branch. There was a bird that had landed inside this hole. But by the time I got my camera from it's bag it flew off. What do you think? Have you ever seen trees that were disfigured in this way or any other way? Do you have a photo to share? Can anyone tell me what kind of tree this is? I am not a plant specialist. There are MANY of this type of tree around and I have no idea what kind it is. HAPPY POSTINGS FROM GRANDPA BOB !!~
10 responses

• Australia
25 Feb 08
I have no idea what kind of tree this is. I can see that the "hole" would be an enticement for birds to rwest in. The shape certainly is unusual. I have seen many trees with strange disfigurements. I dont have a photo of an odd shaped tree, but I do have a number of photos trees, one of which I will include here. i love trees, especially the huge Australian gum trees.

• Australia
25 Feb 08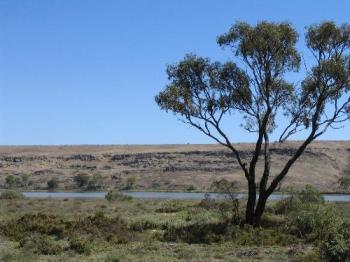 The photo didn't come out! The usual problem on My Lot. I will try once more.

• United States
25 Feb 08
I like the scenery of the photo you attatched. rated and commented on it as well. So do they use the sap of these trees at all for anything? iSN'T THE ANGLE JUST GREAT IN THIS SHOT? lOOKS ALMOST LIKE A DROGON i THINK. HAPPY POSTINGS FROM GRANDPA BOB !!~

• Australia
25 Feb 08
As far as I know the sap isn't used for anything. On gum tree farms, the leaves are crushed, & the "oil" that results is made into many wonderful products. With your comment, was there a photo I was supposed to see?


• United States
24 Feb 08
Almost looks like a very very old scrub oak, sure it has a different name but that's what we call them here. We had a tree in the woods out behind my old house that had a scary face in the trunk of the tree. It measured about 3 feet around and the face covered all of one side. My older sons would take kids out there with flashlights just to scare the kids - some friends they were - mainly my oldest, he would drag #2 son along so when the friends freaked out he wouldn't be alone in the woods with 'the man in the tree'.

• United States
24 Feb 08
Yeah the name is familiar sounding. I am not sure about this one but it does look like some type of Oak tree. A face in it? Kewl sounding. Funny, I would have done the same showing it to neighborhood kids just for the scare factor involved. HAHAHAHA! Man in the tree! Love that. HAPPY POSTINGS FROM GRANDPA BOB !!~

• United States
24 Feb 08
I just wish I had thought to get a picture of it when we lived there - the golf course on the opposite side of the woods behind us expanded a few years before I was forced to sell the house and took the tree out :( I did go back escorted by my sons to see it during the day and it really did look like this huge man's face - old and weathered.

• Philippines
25 Feb 08
Very cool image of a tree... i started a discussion with a photo of a tree planted sidewards but still grew vertically... but with your photo... i kinda saw an image of a dinosaur head... the hole is like the eye... thank you for sharing this...

• United States
25 Feb 08
Pretty awesome looking tree growth. I've seen trees that frew sideways from mountains in Colorado before. they look strange as well. Thanks. HAPPY POSTINGS FROM GRANDPA BOB !!~

• United States
25 Feb 08
I would go along with the Tree being some type of Oak as the Oak keeps the brown leaves on the tree until new buds form in the spring. Interesting photo. nature makes interesting objects for us to photograph and enjoy.

• United States
25 Feb 08
Yes the leaves from this tree are very brown in the fall season. It has to be some kind of oak tree I feel. I cannot recall acorns around the tree at all. Thanks also. HAPPY POSTINGS FROM GRANDPA BOB !!~

• Cambridge, England
24 Feb 08
Wow! That would be scary if you met it on a dark night. It looks like some weird dinosaur. I can't say for sure what kind of tree it is (I'd have to see the leaves, probably, and then I am not too familiar with American trees) but the bark looks very like oak. In fact, I would put money on it being some kind of oak, though perhaps not the English oak that I know.

• United States
24 Feb 08
Yeah these type of trees are very twisted and or mangled appearing. the wood on them is starnge looking as well. they get to be about 60 feet tall that I have seen. Huge ugly trees actually. But this one was so cool ,looking with this hole grown into the middle of the branch. HAPPY POSTINGS FROM GRANDPA BOB !!~

• United States
25 Feb 08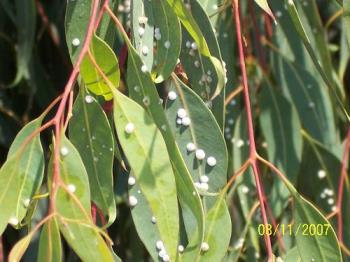 It looks like an live oak tree to me. Yes I have seen trees like that. I do not have a photo to share of a tree like that. I do have a photo of a eucalyptus leaves with some kind of parasite on it.


• United States
29 Feb 08
Wow, that is a really cool looking tree! I personally don't think I've ever seen one like that! It's a shame you missed the shot with the bird sitting in the hole! That would have made an extremely cool shot!

• Philippines
27 Feb 08
It is quite a tree you have there Grandpa Bob. I have seen a lot of trees that seem to have a face carved on their trunks. Once we had an avocado tree right behind our house whose limbs or branches looks like it was embracing our house. Some people really believed that it has an 'agta' living there so my parents had it cut down when they decided to use the space to build another room. Agta are gigantic mythical beings believed to be living on the trees whose habit is to kidnap beautiful women or just scare the unwary.

• Singapore
27 Feb 08
i love weird gnarled trees! there is something so natural yet so unnatural about their irregularity. I have seen some weird leaning trees or those with branches that separate and then join together again. unfortunately i don't have a photo of it to share. thanks for sharing this. I think it reminds me of God's ingenuity in creation and the beauty of nature.