Hawk in my backyard

United States
February 24, 2008 4:11pm CST
Today I was working on my computer with my Paid To programs and I needed a break. I went to the kitchen to get a cup of coffee and looked out the door to see all the bird feeders and noticed that there were no birds at them. It is still cold with two day old snow on the ground and usually twenty-thirty birds are out there. Curious, I looked around and then I saw a small hawk eating a dead animal on the ground. No wonder the rest of the birds were in hiding. I ran to get my camera and it flew away. Moments later a larger hawk flew in and perched on a branch right above the remainder of the kill. It stayed there for quite sometime. Some of the chickadees, a woodpecker and a few cardinals would come to the feeders for a grab and go and then go hide in the smaller brush and the facithia bush. It was almost thirty minutes before the hawk flew to the cablewire in the back yard a little further away facing me and the food. Maybe five minutes passed and it flew and swoopped down, grabbed the dead animal and flew to another tree in the back. My husband spotted it and got a few more pictures and video of it eating in the tree. It was an awesome site and I feel blessed that it visited my backyard. We can hear the hawks screeching and see them flying around but I never saw one so up close and in my yard.
1 response

• United States
28 May 08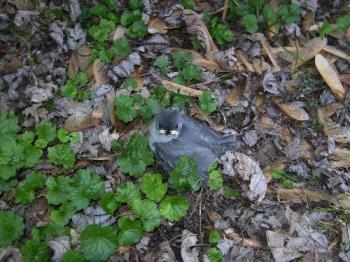 Awe you had a little bully. Monday my boyfriend had baby birds in his yard learning how to fly. It was so beautiful and amazing. You always hear baby bird chirping but like you and the hawk I never seen one let a lone four learning how to fly.

• United States
28 May 08
That is a really nice picture of the bird. It is just an awesome site to watch them. I am glad you got to see that. It is unusual to see them by themselves on the ground like that. Maybe this baby feel out of the nest or just didn't get the hang of it yet. Hopefully, the Mamma was still near so the baby won't become prey for something else, like the hawk I had or a cat, which has become a problem in my yard now too. The cat watches the birds at my feeders and birdbath and it has snagged up two birds so far. I added a small fence to around where the birds are to help keep out the cat, but it sneaks in once in a while.