How much do you spend on your lunch?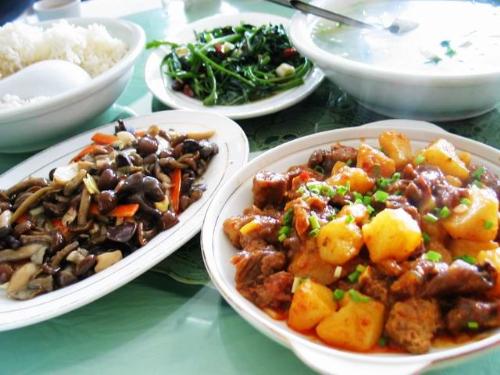 China
February 24, 2008 9:53pm CST
My office is far from home and there is no dining room. I have to packup my lunch every morning and have it in 10 minutes during the lunch break. I really hope I could have a good lunch one day. Maybe sit comfortable in a restaurant, drink a cup of coffee. It is only dream for me.
3 responses

• India
25 Feb 08
Effective lunch time is only 15 minutes. In fact, full meals I take at home in the morning before coming to office and I take tiffin in the after noon at office. My office is also too far from my house. Funniest thing is when I was relatively young, I was staying very close to my house and I used to visit my house for lunch. Now... it is all in the game of life.


• Philippines
25 Feb 08
Well, it varie for me... there is a school canteen at the back of my office so i usually buy there if i really do not want to spend a lot... it cost me only like 50 pesos or $1.20... which is not at all bad... but when i get tired of eating the kind of food they prepare... i usually just take out food at the fast food like MacDonald's, Chowking, or Jollibee... and that would cost be around 120 pesos... which is roughly $3... still not bad...