french manicure


Indonesia
February 25, 2008 6:40pm CST
I saw a french manicure a couple days ago by my customer here in the internet cafe. It is very beautiful! And makes her hands natural fresh appearance I'm so curious how we can make a french manicure until i found this video. You will need * A base coat or ridge filler * A colour varnish * A top coat * A white or cream tip varnish * Nail varnish remover * Cuticle oil or any edible oil. * A cuticle stick * An emery board * A cotton pad. * Some Hand and nail moisturiser. This video its so complete and anybody will easy to follow the instruction:D http://www.videojug.com/film/how-to-give-yourself-a-french-manicure
4 responses

• United States
26 Feb 08
Sally Hansen beauty products sells a kit (less than $10) to be able to do all this for yourself, all the pieces are included.

• United States
11 May 08
I use the Sally Hansen products, too, and the French Manicure is my favorite. Whenever I get around to fixing my nails, that is the one I choose. I have not had much success with the stick on nail guides, though. I have tried to use the white tip pencils, but that just doesn't work for me. Probably that is because my hands are constantly in motion. Usually in water or pounding on the keyboard.


• Canada
27 Feb 08
It is much easier to use a nail whitening pencil to make the tips of youe nails white. Sally hansen makes one. You just have to clean under your nails well, and then wet the tip of the pencil and color under the tip of your nails and it makes them super white without leaving a ridge between the tip of the nail and the nail bed, the way a layer of white polish can.

• Indonesia
28 Feb 08
I have used nail whitening pencil product from Oriflame, and its wash away by water. So i have to use it over and over again when all days i work playing with water. Thank you for responding my discussion nykkee I will get back to yours. See you in your discussion

• United States
29 Feb 08
I just got and get mine done pink and white .... I have my toes the same I love it . Also try what they call a strawberry manicure which is a light pink color , similar to what a ballet slipper color would be it's a nice twist.

• Indonesia
29 Feb 08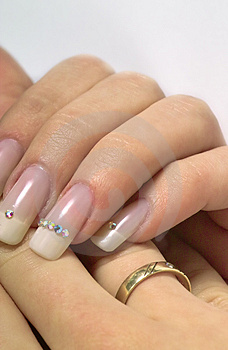 Yeah I love the pink color is almost natural Princesspanties83! thanks

• Philippines
19 Apr 08
Doing your own French Manicure can be a bit tricky.. so I always have mine done by a professional in a salon.. and yeah.. it French Manicures can be fresh looking and youthful.

• Indonesia
19 Apr 08
I do got confuse too using my left hand to paint my nail. My left hand make ugly painting. But if we very carful and trust them (finger of left hand) i can do it better.

Thank you mchristine519. I wil visit your discussionin return.


• Indonesia
9 Mar 08
Thanks for dropping by at my discussion chiyosan. I do too cant maintain it because i play guitar and wash and work and type! But i still wish for once i have french manicure. lol :D