Have you socialised in the washroom?

India
February 26, 2008 3:46am CST
I have often wondered about the feminine habit of socializing in washrooms (provided the washrooms are clean, of course) Ladies go in groups even when they know only one of them can use the WC at a time, and stand and chat and laugh loudly. Funny jokes are exchanged and sometimes, embarrassingly intimate matters are discussed. I confess, I too have socialized thus once or twice, and even found it fun! I wonder if guys do it too, or whether it is a typical galz habit. What about you? Ever socialized in a washroom? Share your thoughts regarding this. Cheers.
5 responses

•
6 Jul 08
I guess us ladies shut ourselves into a cubicle when we actually do the deed, so all the social chit chat happens by the mirrors. Guys don't really have that mirror thing going on, their toilets normally stink to high heaven, and they are so paranoid about being though to be peeking at the other man's wotsit (hey, what else can I call it when everything I try is blcoked by myLot?!) that they barely acknowledge each other's existance. I reckon us ladies have the monopoly on washroom socialising!

• India
7 Jul 08
LOL, you remind me of my visits to my brother's school. The washrooms were open, and you could see the boys on the way to the school offices. Most of the time, they would be playing the "who will pee the farthest" game. Ever seen boys playing this game? Hilarious! And of course, the place stank. Why on earth don't guys flush? Cheers and happy mylotting

• United States
6 Jul 08
Hahahaha! I don't socialize in 'washrooms' but I am reminded of a joke someone recently sent me. I'm going to post it here and I hope you get a good laugh! Here it is: Traveling down the interstate and needing to use the restroom, I stop at a rest area and head to the restroom. I was barely sitting down when I heard a voice from the other stall saying: 'Hi, how are you?' I'm not the type to start a conversation in the restroom and I don't know what got into me, but I answered, somewhat embarrassed, 'Doin' just fine!' And the other person says: 'So what are you up to?' What kind of question is that? At that point, I'm thinking this is too bizarre so I say: 'Uhhh, I'm like you, just traveling!' At this point, I am just trying to get out as fast as I can when I hear another question. 'Can I come over?' Ok, this question is just too weird for me but I figured I could just be polite and end the conversation. I tell them 'No..I'm a little busy right now!!!' Guess what happen next? Then I hear the person say nervously... 'Listen, I'll have to call you back. There's an idiot in the other stall who keeps answering all my questions Cell phones, don't you just love them.

• India
6 Jul 08
Hi zigzag, thank you so much for telling me this. This is the funniest thing I have ever read for a long, long time. It reminded me of a video clip one of my friends sent me. It is not as funny as your experience, but something related to a mobile phone again. So, if you PM me your email id, I will send it to you. I have heaps of really comical video clips with me, and my friends keep sending me more. Cheers and thanks for the lovely response.

• India
6 Jul 08
What.. Socialising washrooms.. no.. never.. i am very sensitive to this .. just its my private affair.. and there are a lot of places where we can socialise.. hahaa... but the irony is man wants to spend time in groups where you must be alone.. and in wants to be alone in places, where you must be interacting with each other.

• United States
26 Feb 08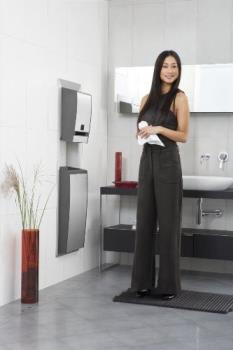 If I am out with group of people, usually female are getting together in washroom for few minutes, but I wouldn't call it socialize... We go tho washroom together just to look at the mirror and correct out wardrobe... Some washrooms in fancy nightclubs offer more and you can buy deodorant or perfume. I don't like when lady is standing and selling anything in washrooms, makes me feel nervous.

• United States
26 Feb 08
No socializing for me. It's just not a place that I care to spend anymore time than I need to. I'd rather socialize with others in a restaurant or while taking a walk.