long distance relationsips

United States
February 26, 2008 8:04pm CST
I am a twenty year old young lady who enjoys going out and meeting new people. I am new to mylot and would like to meet new friends. I live in Jamaica. I am involed in a long distance relationship and it is so difficult to maintain.I love my BF very much and I think that is what keeps us going-love.
6 responses

• India
27 Feb 08
Hi. Welcome to ourLot. Your year of birth is 1987 and you wd like to have long distance relationship. I am from my beloved country INDIA. In tamil language, when we 'jamai' it means 'do grand/great things'. With best wishes

• India
27 Feb 08
Thanks madlees. I picked up Nicky's 'living in Jamaica' and gave a thought in our language.

• Malaysia
27 Feb 08
I've been in a long distance relationship before. No doubt it was very hard, especially with the time difference. i have no idea how i survived that, but i did. drove me nuts at times and made me cry too. but there are many means to keep in touch; telephone, email, IMs, digi cam..etc. i missed him a lot, every single second and wish i could see him or for him to be physically there with me, whenever i was sad or happy. you need to have a solid trust, as you're not able to see what your other half is doing. And you need to have lots of faith, enough to not make you give up on your relationship. but i believe, in the end, love is what that holds you together. if two people really love each other, no matter how far they apart they are, they'll be able to go thru the relationship. love knows no boundaries ;) .

• United States
27 Feb 08
i'm also in a long distance relationship, just a couple hundred miles, but its still tough since we're both so busy. and you're right, love is a big factor. you have to really care about the person and be devoted, otherwise you're most likely going to stray.

• Philippines
27 Feb 08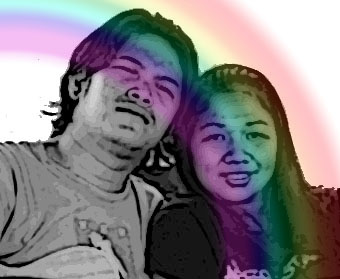 Hi there! I really admire people who can handle Long distance relationships. I just know that I won't be capable of being in one. Anywa, I'm Angel and I'm from the Philippines. Welcome to mylot.

• United States
27 Feb 08
I, too, am in a long distance relationship...but it is well worth it. My husband is overseas and I have seen him for three weeks in the last year. It's been rough not having him home. We have three children and they miss him very badly as do i. You make it through though...as long as the love and trust is there, it doesn't matter how long they've been gone...you know they are coming home to you. the same goes for my husband. He knows he has a wife that is patiently waiting for him to be home. It the true love and commitment to one another that is gonna get you through it. My husband and I use the webcam so that we can see one another. It helps get through the days and nights of not having each other to hold. Just being able to see his face brings great joy to me and makes me feel closer to him every day. these type of relationships can pull you closer together if you let it. the talks you have and the things you say to one another can be very helpful and also very comforting. good luck and God bless

• Jamaica
27 Feb 08
Nicky i understand your situation as i too have one. I am married and living in the western section of the Island while working in the east. I see my family every 2 or 3 weeks and it has been like this for the past 9 years. It takes love,committment,loyalty and strength of character to keep a relationship together but it is in situations like these that this mettle is severely tested. I implore you to keep on loving your man, remain focus and pray that it will work for you both.