Do you make food from other ethnics?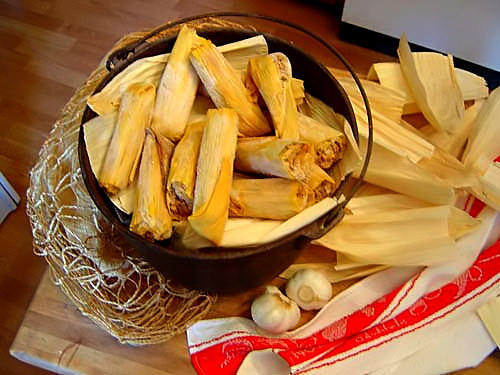 United States
February 28, 2008 11:06am CST
Well I have been cooking meat in the slow cooker for two days now. I have added, pork, beef, and Goat. I am also cleaning out the bottom of the big deep freeze. But the reason I am doing this is cause the girls and I are going to make tamales!!! Oh how we love them!!We are not hispanic/mexican but LOVE the food. Do you cook other foods beside your country foods? Do you have a good Tamale recipe!?!?!
5 responses

• United States
29 Feb 08
Y, please share your recipe for tamales. I love them. I am trying to find Japanese recipes, since Bob is Japanese and his dad use to cook them for his mom. Naturally, nothing was ever written down or passed along.

• Canada
28 Feb 08
I love to try foods of all ethnicities. I love Chinese food and Italian the best but have tried things from all over. I work with a lot of people from the world over and have had the luck to be able to try things from Indian cooking and Morrocan. It is all so interesting and the spices so different I just love traveling the world through my mouth.

• United States
28 Feb 08
I love tamales and most other Mexican foods, I also love Italian and Chinese foods. We make alot of dishes with pasta and rice since they are so cheap and filling.Spanish rice and fried rice are two of our favorite meals. I hve never eaten goat.What does the taste resemble?

• United States
28 Feb 08
Goat I personally think is gamier than beef. It is a meat that has to be slow cooked. But when I do it right my kids and husband think it is beef, otherwise I don't think they would eat it! LOL We usually take goat and pork and make pepper sticks.. and those are to die for!!!

• United States
1 Mar 08
I am famous in my family for my Italian lazagna, but I haven't made it in awhile... it's an all day job! :) I remarried almost 4 yrs ago to a wonderful man who is from Jordan, so he is arabic and I have learned to make a few meals that he loves from his home country. They are soooo good! The more I eat mediterranian food the more I really love it! I'm looking forward to learning more recipes as the years go on. I can't wait to finally go to Jordan to meet his parents, 4 brothers & the rest of his family... especially so I can hopefully learn more great recipes from his mother. I love all kinds of foods. I just began trying foods from India this past year or so as we moved to the San Francisco area and there are a lot of Indian restaurants around here. My husband is in the international dental studies program at a university downtown & many of the other students are from India, so we've gotten the chance to try their cooking too! YUMMY! Can be pretty spicy though, but I like that too.

• United States
28 Feb 08
After we move and I get my new deep freezer, I am going to make tamales!!! My mom-in-law has a great recipe for it and I have it somewhere packed away. lol It takes a long time to make them from scratch, but they are oh so awesome to eat! Yep like you not hispanic/mexican, but love the food as well. I cook everything I can. :)