Can't leave him out! WOOT WOOT

Canada
February 28, 2008 4:58pm CST
Well my daughter won her grade seven science fair the other day. So I can't leave out my son. Clayton wins grade three science fair! He did it on Skin and used a toy Eyeclops which magnifies things by 200x. He is special needs but really loves sciences. This was his first fair and he tried really hard. I am so proud!
5 responses

• United States
29 Feb 08
That is wonderful news! Now you guys have two science geniuses to celebrate. I bet that makes him feel good to be able to win something his sister also won. Science is a hard subject, so it is always wonderful when any child expresses such an interest in it.

• Canada
1 Mar 08
Thanks AmbiePam. We went out to eat. Considering we only eat out a couple times a year it was a true treat. LOL

• United States
29 Feb 08
wow thats absolutly amazing. congrates to both of them. gee im kind of jealose. lol, i used to enter into the science fair all the time, but never won! =]

• United States
29 Feb 08
Wow mom, you should be very proud! Your kids definitely seem to have a knack for science. Congratulations to Clayton!

• United States
29 Feb 08
Fantastic! how exhilerating it is to see our children strive and even more so to see them succeed. their joy is ours, of course! my son built a solar oven for his 5th grade science project and cooked a chicken for the judges... it was so much fun !

• Canada
1 Mar 08
Wow that is an amazing idea for a project. I may steal that for next year LOL

• United States
2 Jan 11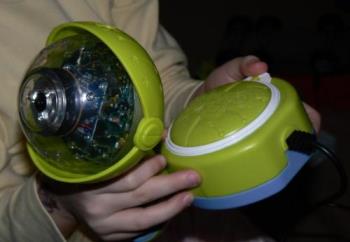 My daughter got an eyeclops for a present this year for Christmas. My mother and father bought it for her. Its really neat. I think there might be something slightly wrong with mine because it doesnt work as well as it should but it works enough that we can see most things magnified. Looking at some of the things magnified that much really turns my stomach lol.