First cheque from Pinecone Reasearch!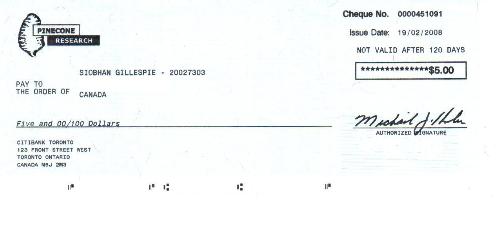 Canada
February 29, 2008 8:46pm CST
I came home from work Wednesday night to discover a wonderful surprise in my mailbox. I had received my first cheque from Pinecone research! I don't see many surveys from them, but I am hoping that this will be the first of many payments to come. And it's always nice to get some unexpected money in the mail. I just wish they had a referral program. I know a lot of people who would be interested in participating in these. So who else has gotten a cheque from Pinecone Research? How much have you made so far?
5 responses

• Canada
1 Mar 08
Sounds like fun! What's the URL where I can sign up for Pinecone Research?


• Canada
2 Mar 08
I looked them up. Apparently they're not accepting new signups for their Canadian division at present. I guess I'll have to wait in line. :(

• Canada
14 Apr 08
That sucks. Well, if I happen to see them taking people again I will let you know for sure. I am really happy with them, the payment was so prompt.

• Mexico
1 Mar 08
Hi there stranger, I haven't seen you for a while. Good to see you posting again and with such good news. I'm involved with lots of internet survey companies, but I don't think I am with Pinecone. Now, I'm going to check them out and sign up. As you said, too bad they don't have a referral program. I would have signed up under you! Congratulations and lots of continued luck.

• Canada
1 Mar 08
Thanks Pete. Yes, I have been away for a little bit. Things have been tight and it's hard to find the time to post anything. I'm hoping to make more of an effort to do at least a little bit of posting every day. I see you have been doing quite well for yourself as well. I would have loved to have you as a referral. The signup banners can be a bit tricky to find, but I have seen some people here with links to them.

• United States
1 Mar 08
Ive joined but i dont have enough to cash put. Thanks for telling me it works!

• Canada
1 Mar 08
That's weird, I didn't even have to cash out. I just completed a survey, and then a week later $5 showed up in the mail. Although you can, after your first cheque, request Paypal payments which are generally a bit faster.


• United States
18 Mar 08
I am going to sign up for that I was just looking for how you sign up. You know where you join it just says members, i will lok some more, thise referrals are still coming in, Vicky. I hope it is working for you. I will call you later.

• United States
14 Mar 08
I am thinking about joining it, I hear you have to have an invite. Can you tel me about it, I hve just made a discussion about it.