Updates on my brother (arsonist) Neice (alcoholic)

United States
March 1, 2008 10:07am CST
Okay awhile back I had discussions about these two relatives of mine. My brother was jailed for 60 days for drunk and disorderly, damage to property etc. he was schedukled to be released Friday Feb 29th. My neice was fined heavily, lost her license for 6 months, not allowed to drink for 6 months with random UA's. Also she is under house arrest until March 11th. So that.s the updates on part of my dysfunctional family. Are you from a dystfunctional family at all? Any problem relatives? Lawbreakers etc? HAPPY POSTINGS FROM GRANDPA BOB !!~
11 responses

• Australia
3 Mar 08
Yes & No. The family I come from, my parents, would not be considered dysfunctional at all. Rather, my Father, was a city counsellor & well known. But on my Fathers side, I have a second cousin who was jailed for murder a long time ago. Although my fathers side of the family was quite stable. My Mothers side of the father would be considered dysfunctional, but they didn't break any laws as far as I know. I know there are people who consider, hubby & my current family as dysfunctional, not due to breaking any laws, but due to family stress & some degree of abuse.

• United States
3 Mar 08
Now my families dysfunctionality goes way back on my family tree. I even recall a greatgrandfather getting arrested for drunk and disorderly and being forced to treatment. Back then treatment was not a pleasant thing either. Thanks. HAPPY POSTINGS FROM GRANDPA BOB !!~

• Philippines
2 Mar 08
your relatives might need proper guidance coz it seem like they are doing rebellion or something, maybe the oldest in your family could take charge to assist them and teach them to live a peaceful life. i have no big problems with my relative aside from simple misunderstanding and petty problems. we live far from them though so i guess i will never encounter big problem with them.

• United States
2 Mar 08
Oh my goodness webeishere...yes, you do seem to have a dysfunctional family ..LOL. But I think everyone has dysfunction in their family, I mean how many people do you know that have no skeletons in their closets and come from squeaky clean families like the Waltons? Heeheee Yup, I think you know a bit about my own background to know I didn't exactly come from a charmed or charming family background. Dysfunctional? You betta cha

• United States
2 Mar 08
What is a "charmed" family? HAHAHAHA! Thanks for that word I loved it. I have a cemetary in my closet not just "a" skeleton. HAHAHAHA!! HAPPY POSTINGS FROM GRANDPA BOB !!~

• United States
2 Mar 08
Whats "normal". I think "dysfunctional" is "normal", at least where I come from. It makes life interesting. I have a certain reputation so I have to keep the family secrets secret. I think the so called normal ones are the ones that are really screwed up.

• United States
2 Mar 08
I also feel the same way most times. My family is normal and others are messed up. HAHAHAHA! HAPPY POSTINGS FROM GRANDPA BOB !!~

• United States
1 Mar 08
Hey we put the "fun" in dysfunctional! I have often told my daughter that if she became rich and famous that ET would have a field day with all the skeletons in our family closet!

• United States
1 Mar 08
HAHAHAHA! Where's the "fun" without being dys"fun"ctional right? HAHAHA! HAPPY POSTINGS FROM GRANDPA BOB !!~

• United States
1 Mar 08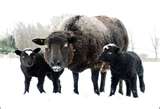 Thanks for the update Grandpa. We all have a black sheep in our families. Some more than one. I was the black sheep in my family because I did everything that I was told not to do. It had a lot to do with my past but I'm over it now and have become a big part of the whiter side now, lol however, yes I still have one black sheep in my family and she'll never go away until her time ends.

• United States
1 Mar 08
You're welcomed as well. I am sure my brother went out to get drunk after being released knowing him. I laugh at the "black sheep" comment. We have one "white sheep in the family. All others are black sheep. So I guess you could say my family is a flock of black sheep maybe? HAHAHAHA! I also was the hugest trouble maker in my family. That and I was also very accident prone. I actually got kicked out of a boys home when I was a juvenile due to too mnay Dr. bills etc for my mishaps as a resident there. HAHAHAHA! They hated me. each day I woke up the counselor would ask me, "Well, what are you going to break or cut today Mr. Olson?" Too funny. HAPPY POSTINGS FROM GRANDPA BOB !!~

• Canada
1 Mar 08
yep dysfunctional family, uncle spend 30 years of his life in and out of jail, son is a pot head, but never in trouble with the law.

• United States
1 Mar 08
I actually have a step brother that is doing life without parole for murder committed during a robbery. I haven't seen him in over 40 years though. Last time I saw him was before I ran away from home. He is still alive and doing time though. So theres a bit of problems in my family. HAHAHA! All except me that is. Yeah right!!! Hee hee. Thanks. HAPPY POSTINGS FROM GRANDPA BOB !!~


• United States
8 Sep 08
Don't feel bad...I have a few like that too. Right now I have a cousin who is in trouble for interferring with a police investigation, an aunt who is mixed up with some guy from Africa that is sending her mysterious packages, an uncle who has a long history of problems with the law and another cousin who is posing naked on the internet. Thankfully they are all on the same side of the family so I can pretty much avoid them. I just try to keep myself far away from them and keep on with my own life. [b]**AT PEACE WITHIN** ~~STAND STRONG IN YOUR BELIEFS~~[/b]

• United States
19 Mar 08
Grandpa Bob, everyfamily has their disfunctional people in it. They use to be called the black sheep of the family. Now the whole family is the black sheep. hahahaha. I sure hope your neice has learned her lesson and will not drink and drive ever, ever again. I hope your brother gets clean also. I know what a person will not get clean unless they truely is ready and sometimes has slippage back to the old ways. Yes we have the black sheep, disfunctional person. Our mom stoped being part of society at the age of 59. She moved in with me and stoped working and lived with me for 10 years. Her sister could not take care of herself and had to be taken care of by her daughter and her husband. MY cousin has been in and out of prision for years. He is homeless and the rumor is he has AIDS. I do not even know if he is still alive. He is a hibutial lier. Grandpa Bob I am so proud that you have been clean and sober for as long as you have. I know how important the meetings are for you. Good luck