Howling Madness! Hahahaha!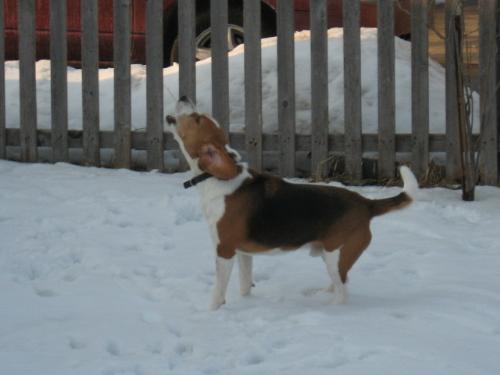 United States
March 1, 2008 10:17am CST
Here is a shot of my Buster howling outside like he does eaxch time a stranger walks down the street. Beagles are known howlers. Beagles are also known for their keen sense of smell. Buster will stick his nose in the air then start his howling widly. I will look around not seeing anything. Then a minute later someone will walk past the house. he smells them a block away and starts howling. We have had Buster for nearly 4 years or so I think. When we first got him, his howling seemed to have angered some neighbors to the point that we had the cops called on us for the noise. The 3rd time the cops were called they sat in their squad car with the windows down, parking a couple houses away from my house, listening to the noise from Buster. After a few minutes they talked to me saying that it was just normal activity and barking etc from Buster but to try to keep it down as much as possible. Well I did nothing at all as far as the howling and have not gotten any complaints about Busters howling/barking since. He still does it as much as before. Maybe the neighbors just got used to his howling? Have you ever had run ins with the cops and neighbors regarding a dog of yours at all? Bites, barking,etc. Anything at all that the cops were called for? HAPPY POSTINGS FROM GRANDPA BOB !!~
4 responses

• Philippines
2 Mar 08
Hi Grandpa Bob! I couldn't stop smiling as I was reading your post. Trying to get a picture of Buster in my mind, howling heartily :) I'm sure your neighbors are already used to Buster's howling. That's why they don't make any complains anymore. And as my neighbor told me, they are dogs and they naturally do their thing. We also have a dog, and her name is Ashley. She's a German Shepherd and she's nearly 5 years old. Her specialty is to let out a very creepy howl at midnight. Ashley will do this for a few minutes, then she will stop ( I guess she's just taking a break) then start all over again. I didn't wait for my neighbors to call someone for their complaints because I did the first move and apologized if they are being disturbed by our dog's favorite habit. They did admit that Ashley were creeping them out the first time. They are a little superstitious and they strongly believe that my dog is seeing ghosts, that's why she howls at midnight. :) Besides her midnight howling, she has the tendency to bark longer than necessary. And her barkings are so loud that my other neighbor complained to my husband that sometimes he feels as if Ashley's barks are vibrating inside his house. So far, no cops visited us. My neighbors, instead of complaining, got their own "little revenge" lol! They now have three small but grumpy dogs. And they all bark simultaneously! And sometimes they drive me nuts with their incessant barkings!


• Philippines
6 Mar 08
Buster sure look so adorable. :)We had a dog once who barks at anyone and anything....all the time! I think if one will suddenly sneeze, she will still bark. lol I don't know what Ashley is seeing at midnight to make her howl like that. But it sure sounds very creepy. But her barks have different "qualitites". She has "excited" barks and "angry" barks specially dedicated to the other dogs and cats of our neighborhood.

• Australia
3 Mar 08
One of our dogs, but not both, do the howling thing. Our Dalmation howls at every siren he hears, ambulance, police & firebrigade. As we live near a fire station, he gets to howl frequently. This of course sets off all the other dogs in the district. His howl is funny. It starts off as a kind of growl, & then develops into a kind of singing howl. I love the photo of Buster, & I rated it & wrote a comment. Our mini fox terrier doesn't howl at all.

• United States
3 Mar 08
Buster only howls at people walking by. I thought he'd do it to sirens etc but nope. Busters howl is just that a long drawn out howl from start to finish. Thanks also. HAPPY POSTINGS FROM GRANDPA BOB !!~

• United Kingdom
1 Mar 08
Lol no I haven't thank goodness but they know that Gissi will only bark for a reason Gissi also seems to sense 5 minutes before that someone will walk past it is quite scary sometimes lol Buster is a lovely Dog and he is just doing his job really

• United States
2 Mar 08
Yeah Busters sense of smell is amaxing. I love it. he is a good watrch dog but a lousy gaurd dog. he will bark at total strangers but then he would also let them pet him as he loves attention. HAHAHAHA! Thanks. HAPPY POSTINGS FROM GRANDPA BOB !!~

• Canada
1 Mar 08
no but I did have a bassethound once that could never be left alone otherwise you would hear him 3 blocks away

• United States
1 Mar 08
I think one could easily hear Busters howl from a few blocks away as well. HAHAHA! HAPPY POSTINGS FROM GRANDPA BOB !!~