What would your friends say about you?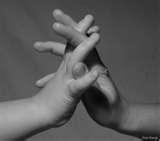 United States
March 2, 2008 1:33am CST
What kind of person would your friends say that you are if they were asked? Would they say that they could rely on you or that you are there in their time of need? If someone called them and asked for a reference what kind of opinion of you do you think they would share?
6 responses

• United States
2 Mar 08
My friends would say that I am loyal to a fault. I am very compassionate. That I love to listen and have a great shoulder to cry on. They would say that I would give them the shirt off of my back if I thought it would help them.

• United States
2 Mar 08
true, true, and true! You are the best for a bad mood, a sh*tty day, a broken heart...need I say more? You give an uplifting of spirit, now about the shirt.... :) :P

• United States
2 Mar 08
I think what you had to say has just been well proven. LOL.

• United States
2 Mar 08
Gotta *love* my sister. LOL

•
2 Mar 08
It would be exemplary, building myself up a bit here, but to have friends you must be a friend and the girl I walked to school with on my first day at prmary school is still after 40 years my best friend. I think they would say I would go the extra mile to be able to help someone, was loyal, no matter what problems were going on in my life would still take the time to listen and be there for theirs. Always ready with a cuppa and a hug if needed. Ellie :D

• United States
2 Mar 08
The best of friends are able to tell not just your good points but are aware of your not so good points too.

• Philippines
2 Mar 08
Well, some regard me as a good friend. They said that I could be a great shoulder to lean on, ready to listen and to help. But, even some of my closest friends often observe me as a proud person. Because of them, I gradually changed my personality. I don't know if I still have this kind of arrogance. They also refer to me as a bright person. Wise and genius, they call me that. I don't know if what they say is true. LOL Maybe it's because I'm just an know-it-all kind of person. LOL I admit it. :P I really love my friends. They don't tolerate my bad attitudes. They are frank and truthful. :) They are the authors of some chapters in my life. Well, they wrote each of their hearts into mine. :)

• United States
2 Mar 08
I really loved that last paragraph. Very profound. Thanks for sharing that.

• Philippines
2 Mar 08
I always hear my friends saying that I'm sweet, honest and generous but really silent and conservative. I guess all my friends, whether past or present will also say that I have always been helpful to them even that means getting out of my way to do them favor. One of my friends in high school even said to me, "I'm the one having problem but you looked more worried than I am."

• United States
2 Mar 08
It sounds as if you are very empathatic to how your friends are feeling, which is a good characteristic to have.


• United States
2 Mar 08
I think inside you know what they would say and don't really think you have to doubt it.

• United Kingdom
2 Mar 08
I think my friends would see me as a guy with a heart of gold, warm, funny and always likes making other people laugh, loyal, honest, very placid, on the downside they would say I was stubborn and shy and a bit too passive. If they needed help or someone to listen to I would be there straight away, I am a very good listener and I am also systematic and methodical in my approach and doesn't like change.

• United States
2 Mar 08
I don't like change either. Thats one thing that makes me feel old, but I guess it happens to people of all ages.