Dogly Goodness...

Australia
March 3, 2008 12:39pm CST
Hi Canine Carers, I'm not much of a dog-person myself, because I don't have the personal desire to take on the responsibility for raising and caring for a dog. BUT I've observed other people's dogs, and noticed that different breeds seem to have certain defining traits that separate them from their fellow breeds. The physical appearance is the most obvious demarcation, but different breeds of dogs are also likely to have similar temperaments. Labradors are about the most lovable and friendly breed that I've ever seen. And Dobermans seem to just ooze a kind of latently aggressive authority which says "don't piss me off or you won't live to regret it". Daschunds tend to be cantankerous and cranky - wear thick boots in the vicinity of daschunds. Chihuahuas are darling little things, full of fun if raised in a healthy environment, but can be quite nasty little buggers if they've been spoilt. The funniest thing about these little guys is that they have no idea how small they are. But the ones that scare me are poodles. I've looked into their eyes, and they're pure evil. They have no soul, and manipulate humans only for personal gain. When the four horses of the Apocalypse ride, they'll be accompanied by packs of poodles. Have you had any insightful moments with different dog breeds?
7 responses

• United States
3 Mar 08
Yes there is definitely a difference in dog breeds that defines their personality tendencies. However these differences only outline the potential doggie personality. The true personality develops with the environment they are raised in. Just about any dog can be a loving companion if brought up in a loving environment. ~Tink

• Australia
3 Mar 08
Hi tinkerick, I can agree with the idea that any dog can be conditioned to a certain extent by its environment. Little dogs can carry on as though they're really big dogs, for example, and big dogs can be intimidated by a much smaller dog (or person) if the bluff has been consistent, and the dog has the right temperament. But there might be limits to this. I've known people who had to get rid of a large dog because, despite their best efforts in training it to understand who was boss and what was acceptable behavior, it still began to aggressively assert itself over their kids once it was physically bigger than them. So i agree that each dog has a unique personality, but that may still be confined to certain stereotypes within particular breeds (for example, I've never ever met a Red Setter that wasn't a complete clown).

• Canada
4 Mar 08
Great discussion! Have owned dogs all my life! Environment is a real trait developer. My concern with a lot of breeds, is there is a lot of in-breeding, (puppy mill) sort of stuff, that seems to end up diminishing the good traits of every breed. And I think it affects their health, too! I really don't know many bad dogs, but many bad owners.

• Australia
4 Mar 08
Hi tinkerick, I hear what you're saying about health. Seems to apply a lot to the small furry breeds of thoroughly inbred types like Shitzous and the like - they often seem to have bone and joint problems, as well as congenitial problems with their heart and other organs. One might start to question the ethics of some approaches to dog breeding when this sort of thing starts happening.


• United States
3 Mar 08
In my observations, I find that Pitbulls have a very "Old soul, Young heart" personality. Raised in a loving environment, I find them to be joyful clowns and as they age I find them to be more sage like. Rat Terriers, they seem to be like a permanent puppy. Their mission in life, Kill Vermin and love & protect their humans. Poodles, I couldn't agree with you more. Are you sure they're not a breed of cat? haha... just kidding. There are some good poodles out there, very few from my travels. Neat topic, thanks for the pondering!

• Australia
3 Mar 08
Hi Carmetaf, Thanks for sharing your observations. Pitbull Terriers have a bad reputation in Australia - always seems to be some lovely child-friendly dog suddenly going on a rampage and chewing someone's leg off. I'd be a bit careful if I had one around the place - but it's nice to know they can be nice. My Dad had a Fox Terrier years ago - are they the same as Rat Terriers? Sounds the same - always chasing snakes or anything else it can find in the grass or under the house. As for Poodles - I get chills just thinking about them. Cats are much nicer than that - mysterious, and selfish, but otherwise mostly nice (when they're not busy traumatizing some little furry animal).

• United States
4 Mar 08
I have a 3/4 Chihuahua and 1/4 Corgi mix. He is the cutest thing. I've had several offers to buy him just from being outside and walking my dog. He is scared of little dogs somewhat, but he will go right up to a Lab or German Shepherd and bark and growl like he is the king of the world. And in my world, he is. : )

• Australia
4 Mar 08
Hi AmbiePam, That must be one peculiar-looking dog! Chihuahuas and Corgis are built quite differently, so I can't imagine how your little dog must appear. It sounds like he's inherited the Chihuahua traits of fearlessness and insanity. My sister's Chihuahua frequently goes to the fence to try to pick a fight with the next-door neighbor's dogs, and then turns around and kicks dirt in their faces. Luckily for him, it's a sturdy wire fence, because they're 10 times bigger than him. Heaven help him if they ever got out! But he is a very endearing little fellow - wouldn't actually harm a fly (unless it was 10 times his size and also a dog).

• United States
4 Mar 08
Sherlock is a doll. The Corgi traits are that he has little legs, and is closer to the ground, like Corgis. He also has the hair around the neck that most Corgis are seen to have. Other than that, he is all Chihuahua in features. He doesn't have their nervousness though. And he doesn't shake.


• United States
19 Mar 08
Bichon's are just as happy to crawl under your feet to serve as a foot stool as they are to hop on your lap and be a lap robe.... they are normally a really laid back and mellow beast but occasionally they get this rush which we term the bichon buzz - and they run like mad from one end of the house to the other - skidding out on floors only to struggle to their feet and continue on!

• Australia
24 Mar 08
Hi Modestah, Your description of the "Bichon Buzz" reminds me of a seeing-eye labrador that I recall used to accompany his owner to work in a government department years ago. Every now and then, this dog would seem to go beserk, and would gallop up and down the length of corridors in the big office building. I assumed it was because he was relieved to occasionally release some pent-up energy instead of being a seeing-eye dog 100% of the time. But maybe there's more to it.

• Canada
12 Mar 08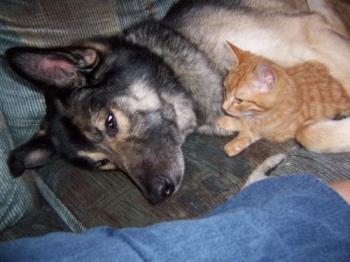 I am a dog lover and appreciate what you are saying about their unique characteristics. After all that is what they have been bred for..and with. That is the main reason David and I prefer cross-breeds rather than pure-breads. You can end up with some really interesting dogs. Tasha the one we put down in January was a Lab/Shepherd cross. She was a smart, lovable loyal dog with a strong sense of herself right to the end. We had Meishka an Irish Wolfhound/Husky cross and did that dog love to run. We currently have a Husky/Shepherd cross dog who is a big wuss and who also thinks he is a cat. I have included a photo of him with one of our 5 cats. I do not subscribe to your opinion about poodles. Our family had three and they were not manipulative with no soul. Maybe you have run across some like that...but I am not into global judgments about anyone or anything. So we'll have to agree to disagree on this one. Some of it is how animals are raised and there are genetic things that can affect behavior. One friend of ours has a Maltese that is an easy going, loving little animal. Another friend has one with a lose wire and he snaps into biting rages when least expected. Interesting discussion..one many animals lovers will relate to. Raia

• Australia
24 Mar 08
Hi Perspectives, Thanks for your balanced contribution here. It occurs to me in passing, just about all animals have their own distinct personalities and accompanying tendencies and traits. Even goldfish have a whole lot more to them than first impressions might suggest. It would be intriguing to understand how selective differentiation has affected the underlying temperaments and personality potentials of the various canine breeds.

• Australia
4 Mar 08
Ha ha I like your take on certian dog breeds. I am definitely a dog person myself and I too like the different temperaments that come out in different breeds. My all time favourite dogs are pugs. I never knew much about them until I had two of them come into the vets where I used to work. I realised that they were the most friendly, affable dogs I'd ever met! I've been in love with them ever since. I agree with you about the chihuahuas. They can be quite vicious little things if they're not brought up right. You see (and I'm generalising here) people who choose to own a chihuahuas are usually people who want a little dog to spoil and dress up cos they're small and cute, and they're also elderly people who just want a small dog for company. This means that these chihuahuas (and other small breeds) are often carried up under their owner's armpit, at eye level with other humans. As a result they think they are more important and special than other dogs and humans. I'm a firm believer in treating all dogs equally, whether they're a chihuahua or a German Shepherd. And poodles! Haha they scare you..I agree they're quite weird. I think it's the haircut that puts me off them. I actually think daschunds are scary. I used to think they were cute until I saw one in person and the size of their feet freaked me out. It's just wrong! It's mutilation of a species gone too far. And the same goes for shar-peis (however it's spelled). Theyr'e just freaky. but I love dogs all the same.

• Australia
6 Mar 08
Hi coffeeshot, Thanks for your thoughtful & engaging comments. It's funny to see just how different dogs of a species can be if they're brought up in different environments. The Chihuahua raised by my sister was given to her from a litter of pups by a friend, and that little dog is the most energetic thing I've seen - never stops running, whether around the yard or around the house. So he's a very fit little thing, even though he only eats cooked chicken. Yet all his siblings, who ewere raised under different conditions, are all physical wrecks - overweight & on medication etc. They still all have similar temperaments, though, and get on famously when they visit each other. As an aside, my sister's Chihuahua also looked after and raised her cat from when it was a tiny kitten. Now it's twice his size, and ambushes him from behind any bush or chair to beat him up - but he doesn't seem to mind at all :)

• United States
19 Apr 08
Nope, I think you covered it nicely, pretty humorously too! I used to have a male poodle that had the hots for our male Persian cat. This same poodle would drag my underwear out of the laundry and chew them up. He would p!ss on our pillows if we left him home alone. He chewed up my coat of Spanish antelope leather that I got in Spain. He was my mother's dog, but I somehow ended up with him until I finally gave him to a friend. She was a heroin addict, but her family business was raising poodles and she had raised them all her life, so I figured he was in better hands than mine. Every time when I went there to visit he would go and jump on her lap and stare coldly at me. It gave me the creeps... I finally stopped going. I used to have a chicken that thought she was a dog. She slept with the dog, ate out of the dogs dish with him, and would run to the driveway with him every time we had a visitor, clucking instead of barking.