Selling Your Goods?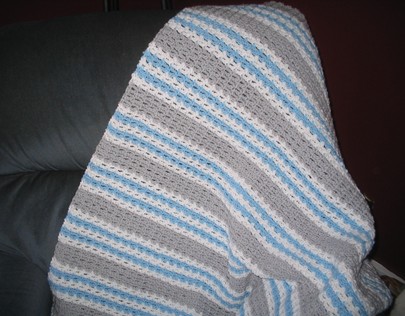 United States
March 3, 2008 2:32pm CST
How many of you sell your crocheted items? I love to make simple baby blankets and afghans, but need a market to sell them in. I'm thinking about going with etsy.com, but is there really any turnover there? I know a lot of people will probably look at the items (usually other crafters), but how many actually buy?Here's the latest baby blanket I just finished.
7 responses

• United States
3 Mar 08
I have sold afghans and a few baby blankets in which I have made. Well, not by going out and selling them anywhere. But more of the fact, people will come to me from seeing an afghan or baby blanket I have made, and asked if I would do one for them, and they would pay me XXX amount of money. Which of course I will always do. It is a hobby of mine I truly enjoy and if someone is going to pay me to do it for them, I won't turn it down.

• United States
3 Mar 08
Yea Chey, same here. Several years ago I worked on the school bus as an aide with the special ed kids. I always had my crochet bag with me and would work on things while at the bus garage, and on the bus when we weren't dealing with kids. Someone always wanted what I happened to be working on. Unfortunately, I don't have any contact with 'real' people anymore outside of the internet.


• United States
5 Mar 08
lovely blanket - could also be marketed as a lap robe for wheelchair bound persons. I love the color choices, they are unique and go so well together. you have a good eye for color. any antique type malls around you that offer booth space for lease? that would be an idea. maybe you could consign some items through the hospital gift shop - as specialty one of a kind items - most everyone who visits a new mom and babe in the hospital is at least tempted to go to the giftshop and see what is there, no?

• United States
5 Mar 08
Thank you for the kind words. I try to stay away from the same old thing everyone else does. I can't do the fancy patterns like some, so I try to vary the colors and width of the stripes, etc. It works for me, and I've never had anyone NOT like what I've done. Hospital gift shop is a GREAT idea! I may have to check that out, thanks ...

• United States
3 Mar 08
That is wonderful that you know how to crochet. I wish I would have learned from my grandmas before they passed away. They both could make beautiful things. At least I have some afgans that they made for me. They're very sentimental. Maybe I'll take a class some day & learn!

• United States
3 Mar 08
The items I make aren't very intricate and are very simple to make. I don't like to do the very elaborate patterns, I like to be able to crochet while watching TV, in the car, waiting at Drs office, etc, and it's hard to do if the pattern requires you to keep count. They're pretty easy to do, but I've always got compliments on them.

• United States
5 Apr 09
Your blankets are very pretty. I do them also. I have some on consignment in a specialty store but the problem I have with the blankets is how to price them and make any money!?! The yarn costs so much most of the time to get the nicer yarn for baby blankets that you would have to charge so much. I do make them for the hospital, we had ordered some baby yarn mill ends and got them for a good price, so we are using that yarn for the charity donations but the place has recently gone out of business.

• United States
5 Mar 08
My daughter was telling me about this site, she said my sister and I should sell the craft we do. Let us know if you do it, and what kind of results you get. She was excited about it. She is thinking of selling some of the things she has been sewing there. Your blanket is lovely Marie Anne. My mom was very good at that and so was my grandma.

• United States
5 Mar 08
I did go ahead and sign up and its a fairly simple process to put up a listing. I have two baby blankets up and will probably list another baby blanket and two afghans today. Deea, go ahead and take a look. It's free to join and only .20 to list an item and it's good for four months. You don't pay anything else until/unless it sells, and then it's only 3%, which is good. What kind of crafts do you do? My store is at MACrochet.etsy.com if you want to take a peek at what I've done. If you do sign up, use MACrochet as the one that referred you (I don't think there is any referral bonus or anything, but it might show that I'm an active member helping the site). Let me know what you do!

• United States
4 Mar 08
I just did some research on Ebay and there are a lot more baby afghans sitting on there with no bids than there are ones with bids. A few bids were as little as $9.99. Take a look at what is selling on there. If you like playing around with Ebay, it might be worth it to list one. When I went to craft shows back east, the crocheted stuff wasn't selling like it used to. The big thing was everything in fleece and quilted stuff. That's a shame considering all the work that goes into the crocheted stuff. I love to crochet, but had to quit when my shoulder and arm started acting up. A nice way to pass time - I like to do something when watching tv etc.

• United States
4 Mar 08
Sweetie, it's basically a store with fixed prices, there is no bidding or auction. I've done quite a bit on eBay in the past, but most of this sort of thing doesn't really sell well. Etsy is all handcrafted items, so only people interested in that sort of thing would be looking.

• United States
3 Mar 08
I've browsed through many sellers on Etsy and there do seem to be plenty of buyers. It's pretty much luck just like any other selling site. Try to promote your site as much as possible on forums that pertain to your craft. This should attract buyers. I've neglected my Etsy site I'm sorry to say. But I intend to update it soon. I did sell 2 folk art angels I made. Good luck on selling your wares! I think there's always a market for what you are making. ~Tink

• United States
3 Mar 08
Thanks, Tink. Its very cheap to list (if I read it right), so I will probably go ahead and give it a try.

• United States
17 Mar 08
I've been wondering about etsy too... I've made a few crocheted blankets, but I enjoy quilting even more. I did a search to see what was there and there are a lot of quilts... but like you said, they do sell! Maybe I'm going to have to check it out a little better... I'm always looking for that one item that is a top seller, just like everyone else! lol!