"Gallup Poll" confirming that most Liberals are not in excellent mental health?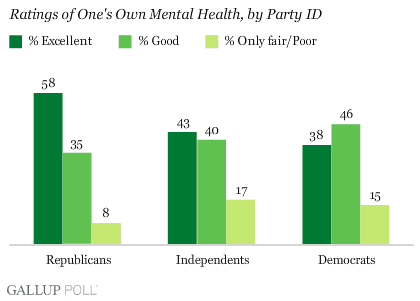 United States
March 3, 2008 5:54pm CST
I recently presented a controversial discussion here titled "Top Shrink Concludes Liberals are Clinically Nuts." In a nutshell, a respected Forensic Psychiatrist has written a book arguing that political Liberalism can be equated to a "psychological disorder". As you can imagine, the discussion prompted fervent debate. My public conclusion was twofold:1. That before I passed judgement on this psychiatrists theory that I would read his book, to assess his methodology. In other words, I would further investigate. 2. That it is perhaps reasonable to theorize that the same claim could be made of Conservative Republicans. Well, the book hasn't arrived yet. Though, while waiting for it to be delivered, I stumbled upon this:11/30/2007 Gallup Poll - "When the Gallup pollsters asked Americans what they thought about their own mental health, they were intrigued by the difference between Democrats and Republicans.""Republicans Report Much Better Mental Health Than Others: Relationship persists even when controlling for other variables.""But an analysis of the relationship between party identification and self-reported excellent mental health within various categories of age, gender, church attendance, income, education, and other variables shows that the basic pattern persists regardless of these characteristics." The Gallup Poll, "based on an aggregate sample of more than 4,000 interviews..." found that:58% of Republicans reported excellent mental health. 43% of Independents reported excellent mental health. 38% of Democrats reported excellent mental health. The trend was similar when asked about "good" and "only fair/poor" mental health. In all categories of inquiry, Republicans reported better overall mental health than their Independent or Democrat counterparts. Including: income earned, education level, gender, and age. Below is the link to Gallup with an explanation of the polling, including graphs. http://www.gallup.com/poll/102943/RepublicansReport-Much-Better-Mental-Health-Than-Others.aspx True to my word -- I have been further investigating any possible validity of Dr. Lyle Rossiter's findings. My query just raises more questions. So, my question now is:Is this Gallup poll perhaps corroborating Dr. Rossiter's conclusions? Is there something to this: especially if these Gallup findings were derived from the respondent's own perceptions of their own state of mental health? What are your thoughts? If you want to refer to the original press release about Dr. Rossiter's book, here is the link:http://www.worldnetdaily.com/index.php?fa=PAGE.printable&pageId=56494 Thanks in advance for sharing your thoughts!
8 responses

• United States
4 Mar 08
These numbers could be interpreted in many ways, but in my opinion it all boils down to this: I'm sure almost none of those polled were actual mental health professionals, and it's my understanding that if any of them were, they would not be qualified to diagnose themselves. So, even if every single respondent said what they believe to be the truth, they're all unqualified to determine the state of their own mental health. So the results Gallup got from their poll is a total crapshoot.

• United States
4 Mar 08
Hello MntlWard, Yours is a VERY intersting interpretation: The respondent's were not qualified to offer an evaluation of their own state of mental health. Do you think this has more to do with a lack of qualification(s) in the arena? Or, a lack of understanding of how "Excellent", "Good", "Only Fair/Poor" mental health are defined? I think that it's terrific that you're disecting this!

• United States
4 Mar 08
Even a psychologist/psychiatrist with the best education and experience wouldn't be able to be completely objective about his own mental state. For example, a paranoid schizophrenic would tell you that his paranoia is completely rational. It doesn't matter that the people on the radio say they're making fun of Tom Cruise, the paranoid schizophrenic believes the jokes are directed at *him*. They're just using the name Tom Cruise as code, because if they said the paranoid schizophrenic's name, then that would ruin the whole conspiracy.

• United States
4 Mar 08
Great analogy, MntlWard! OK, so if I'm understanding your response correctly, then rather than education, credentials, or the definitions of the applying terms, what you really believe is at the root of the disparity is objectivity about one's self?


• United States
4 Mar 08
I think most liberals like most conservatives are actually of a fairly moderate bent. I always look at it like a circle. The moderates are all at the bottom and most people veer a little one way or another toward the sides of the circle. The ones who veer too far wind up at the top of the circle where you really can't tell right from left anymore. They're all crazy up there. LOL

• United States
4 Mar 08

• United States
4 Mar 08
What I find troubling about this whole controversy is that so many people of either affiliation, and probably if questioned, of people with NO affiliation self-report anything other than excellent mental health. As the Impressionist painter Manet remarked upon learning that his revolutionary painting called Olympia was considered childish and absurd, "Somebody must be wrong!" It wasn't Manet, as Olympia now has an worth beyond calculation. It is not for sale, I believe it would go for at least $100 million. I wish people would place the same value on their own mental health.

• United States
4 Mar 08
Excellent question! I am not suggesting that they should in future fib or even that those in the survey fibbed, as they could as easily be mistaken. What I am suggesting is that people should address the problem. Sorry for being unclear. Let me try again. I did not mean that they should place great value on what other people think their health is, but rather on improving their health. For instance, they could learn some new skill that builds self-esteem, learn better nutritions to strengthen the mind/body connection, exercise, work on their interpersonal relationships, and even seek professional or spiritual help from those trained to provide it. Don't you find it somewhat startling to see statistics suggesting that many people either lack excellent mental health or think they do? I suspect that in truth what is happening here is that people think that for whatever reason they are being immodest if they state that something about them is "excellent." Have you never had a job evaluation where the boss says to you, "Your work and attitude and everything here are excellent and that is what I want to write but the company rules are that we must not state that because if we did the company would have to give you a raise, and there is no money in the budget." -- Thud. I've read formal guidelines for self-evaluation for students and workers where they were cautioned against giving themselves credit for their accomplishments at the risk of being perceived as immodest. One university counselor told me on my first day of college "Try not to get all A's as a few C's on your record will make you look well rounded and nobody will hire a straight A student." I'd never heard of graduate school at the time, having come from out in the sticks, but I had been taught at home to know a skunk when I smelled one, and a trap, too. At that time straight A's were absolutely necessary for admission to post-graduate studies. In the long run we are all responsible for our own actions. So I feel we should strive to be the best we can be, and not settle for something less. I would further suggest that there is a natural propensity for people with low self-esteem to make passive attempts to drag others down. I would be inclined to think that rather than overstating their mental health, most people queried would understate it, and that might possibly account for the apparent discrepancy.

• United States
4 Mar 08
Great points drannhh. I agree with a lot of what you said. I would agree more wholeheartedly if that was consistent across the political groups. But why do you think that one group would have the propensity to either over or under state their mental health more than the other group?


• United States
4 Mar 08
Hello again Ladyluna! Great post. I think that the issue here is not really mental health, it is perception. If I can summarize the difference between conservatives and liberals (I know we will all disagree but humor me)I can better make this point. Conservatives, in general, support less government intervention and more personal accountability. They tend to see the glass as half full. Liberals on the other hand see things that need intervention, things for the government to do. They see the glass half empty. They support bigger government that does more for the governed. Conservatives would see their own mental health as better since they are responsible for it. They don't want outside involvement so if their mental health needed assistance, they are probably already getting it. And they probably see it as a close ended endeavor. Find a problem, fix it and move on. While liberals would be more likely to see themselves as requiring outside assistance, even ongoing assitance. If we didn't require outside support, then the arguement for bigger government would not hold water. It's all about the role of government. The more we NEED government, the stronger the arguement for liberalism. The more needs we have in life, the stronger the perception that we need government to fill those needs. If there were no problems there would be no need for government to fix them. Liberalism by its very nature focuses on the problems in life. Conservatism focuses more on the solutions, usually by the individual and not the government.

• United States
4 Mar 08
I'm glad I phrased my reply to Guardian before reading his reply to Luna, because this way I know we arrived at somewhat similar conclusions independently. To Luna, I would say that that demographics are just a tool, not an accurate overall picture, and also that we have an increasingly transient society. People I know were born and raised Republican in a small town, moved to the city and became Democrats and then became disillusioned with liberal thought and moved back to the country, either in their viewpoints or physically, or both. There is a tendency to label people as liberal or conservative, but people are more complex than that. Some of our habits and values we outgrow and some we grow into as society is liquid, not static.

• United States
4 Mar 08
To Ladyluna, I think that Drannhh was right on, we are much more complicated than the labels we give each other. There are very many liberals who are very personally responsible. And many conservatives that are not. But the point is underlying philosophies. Liberals tend to want to help people, a very noble sentiment. Conservatives want to help people help themselves, also very noble. Both are trying to do good but from differenet directions. For some liberals, it is the liberal philosophy that is appealing to them. Though they live their lives in what would from the outside appear conservative. But they want our government to be liberal. To Drannhh: I commented on your post before I read this..lol. It does appear we agree on the basic tenets of conservatism and liberalism.


• United States
4 Mar 08
Nothing profound here. Just a thought. This poll may actually support a theory that Republicans are more delusional than the others. It seems absurd to me that one's political party affiliation would have any effect on one's mental health. That's tantamount to me saying that because I choose Fords, I am in better mental health than those who choose otherwise. Of course I shouldn't have used this actual FACT for comparison.

• United States
4 Mar 08
I think that it is important to note that the poll did not mention political parties at all. While most conservatives find themselves associated with the Republican party, there are many conservative Democrats as well as liberal Republicans. This poll mentions only mentions liberals.


• United States
4 Mar 08
I think that anyone who believes in personal responsibility, who wants to be independent of government oversight and non government dictation or interference of our personal lives and choices, and who believes they can manage their own affairs better than a nanny government ... such as the conservatives ... would most naturally consider themselves in much better mental health than a group that wants the government to provide everything for them including healthcare, minimum wage, special status for special interest groups and so on .... such as the liberals. Finally, I believe this further gives credence to the theory that liberals ARE clinically insane ... and also shows that while you don't have to be crazy to be a liberal, it helps if you are.


• United States
4 Mar 08
Ladyluna, great insight into urban life. That is very telling and something I had never considered before. The example of the garbage collectors strike was right one.

• United States
4 Mar 08
I know that red/blue map is at least representative of the fact that you will find more liberals in urban areas and more conservatives in rural areas, or areas with less population density. Our two major cities are on either end of the state with Kansas City on one side and St Louis (both City and County) on the other. Then we have a few less populated cities such as Jefferson City and several college towns. Everything else has is rural or farming communities. The town I live in is one of these with a population of around 3000... with only a plating company, a food service company and a few charcoal plants... located in the Ozarks. Needless to say we are mostly conservative with a few cases of insanity mixed in (liberals). Just about every election, we see conservative issues doing really well... until the results from the larger urban areas come in. It is my opinion that the large population areas are controlling the things that happen here in Missouri, and a LOT of what gets passed is detrimental to everyone, but is definitely not in the best interests of our state as a whole. This can be expanded across the entire country... the big cities and high population areas are dictating what happens in the entire country, and the thing is that what may or may not be good for a large populated area is NOT necessarily good for a rural area. This is why I oppose national laws pertaining to personal choices, habits and behaviors. This is not the job of our government and was never intended to be. The only persons who would want a big brother or nanny state government are those individuals that are either unwilling or unable to accept personal responsibility, and need someone, preferably the government to take care of them. They have never really matured and are like children who still need to be cared for... and for these people liberalism and socialism will fill that need. Yes, they are insane in so many different ways... and if you got them out of their cities and into the rural areas where they have to depend on themselves they would never survive. That red and blue map shows that as far as the country is concerned, the vast spaces in red are seemingly controlled by the itty bitty blue areas. That is not what made this country great, but it is what is destroying this country now. The job of the federal government is not to provide healthcare or minimum wages or to regulate our daily lives and choices. The government has limits, and these are spelled out in the Constitution... yet the government has been steadily trying to exceed those limits, and except for a brief period, the government has consisted of liberals. I look at the country today, and I remember it from when I was a kid, and I can say that it not the same country I knew then, and we owe it all to the liberals. Welcome to the USSA

• United States
4 Mar 08
"The city residents didn't find someone with a truck and pay them to drive their garbage to the city landfill." I don't think the people in New York City that had trucks had enough time in their day to drive the garbage of all the truck-free residents to the landfill. As for the residents not strapping the garbage to the roof of their car: not everyone in NYC has a car, because traffic there is hell already, plus public transport is fairly efficient there. So as many people in NYC that found it possible very well may have found a way to get rid of their trash, and garbage *still* piled up. :-)


• United States
4 Mar 08
I can't resist responding to this one...lol People are being asked to assess their own mental health and more Republicans than Democrats stated their mental health was excellent. When I consider people such as Rush Limbaugh, Ann Coulter, Sean Hannity, Bill O'Reilly, Michael Savage, D1ck Cheney and George Bush I see extreme arrogance and conceit, however misplaced, a problem with telling the truth not to mention some real signs of mental health that is anything but excellent. If these people are a sample of who was polled, I'd say it speaks for itself. For the record, I'm a Democrat and I consider myself to be completely sane although I've been quite depressed for the past seven years but can feel myself starting to snap out of it. Annie

• United States
4 Mar 08
Hello Anniepa, This research is not a personal attack on you. It offers a composite glimpse of real people, in real life situations. Since there is such a vast difference between the political ideologies of liberalism and conservatism, don't you find value in attempting to understand the disparity, be it real or perceived? If this poll, following on the heels of Dr. Rossiter's public claims, had determined that Democrats had assessed themselves more positively regarding their mental health than Independents or Republicans, I would have posted those results also. Regardless of how the data comes out, this polling, as well as Dr. Rossiter's claims represent important questions to investigate. Why is there a seemingly quantifiable disparity between how Democrats & Republicans view their own mental health? Why has a forensic psychiatrist, (with no history of political activism) determined that one ideology is seemingly more troubled than the other? There simply must be some set of variables that is responsible for the disparity. I believe that on some level you agree that there is value in exploring the possible reasoning. Else, why would you have been unable to resist responding? Having said that, I'm inclined to ask you: Why are you deflecting the question? Rather than exploring how or why average Americans would have responded thusly to questions about their own state of mental health, you are projecting your unease on to famous Conservatives, and accusing them, who in all probability were not part of the polling parameters, of arrogance and dishonesty. You don't sincerely believe that all Republicans are carbon copies of the seven personalities that you reference, right? Didn't you recently post a discussion about the Democrat and Republican members of your own family, in relation to a news article about how a Republican and a Democrat got into a fatal argument about politics? Well, how about starting with them. Do the members of your family show a similar disparity of mental health, or perception of mental health? Try to imagine how your family members would have responded to the questions, and why. Come on Annie, work with me here. For several decades, our nation has been plagued by division. We seemingly find ourselves in two camps, divided by a chasm of ideology, goals, values, etc... I sincerely believe that it is essential that we open ourselves to exploring the possible reasons for these differences, which cause such anger and resentment. How else can we bridge the chasm?

• United States
5 Mar 08
I'm sorry, Ladyluna, I didn't think you were attacking me personally for one minute. I guess I was making light of it, not meaning any offense toward anyone and absolutely, I don't think all conservatives are anything like those I mentioned. I couldn't agree more about us needing to come together as a country and not be so divided, etc. Seriously, it is an interesting discussion and the poll results are certainly interesting. I have no idea what it all means, I wish I could figure it out. Maybe I'm not really that much of a liberal in some ways and that's why I'd have to answer that I'm feel I'm in excellent mental health. I am suffering from depression but it's partly because I'm also suffering from a serious back problem and severe arthritis and I'm unable to do the job I did for 18 years and it kind of sucks...lol. I say that because I've always worked all my life and I do NOT want the government or anyone else to take care of me so if that's really how a liberal is described then in that way, at least, I am not one. So, here's my serious assessment of why there was such a disparity in the poll; I think others have said somewhat the same thing but perhaps some of the liberals have been taught not to "brag" so they felt that, no matter how they really felt about their own mental health, they had to say it was less than "excellent" because it might hurt someone's feelings whose mental health is not so great? Darn, I wish I was still working at the Post Office because I would do my own survey among my former coworkers! I must say, some of them are rather crazy and there's really no connection I can see regarding their political leanings. In the Postal Service, it's "equal opportunity insanity" that applies to both Democrats, Republicans, Independents and the totally non-politically minded. I am going to poll my friends and family and I'll get back to you. Annie

• United States
7 Mar 08
First, before I forget, do you go to a Yoga class or do it at home? When I was in my twenties I got a book and was trying some of the moves but - this is going to sound stupid - I can NOT cross my legs the way they do. They won't and never have go into that position. I can do the frog position, or I used to, but not the other way. Next, I guess I came up with my idea of why the Democrats gave the answers they did because of how it's often said how liberals are against grading students in school, having a winner and a loser in different competitions and things like that so I thought if some liberals really think that way (I don't!) maybe it would stand to reason that they may think of their mental health as a contest and if they said theirs was "excellent" they would be placing themselves above others. Is it what they really believe? I don't know, I wonder if many people who really believed they were in anything less than at least "good" mental health would be quick to admit it. Hey, you're really making me think too much! Annie


• United States
4 Mar 08
It is a Gallup poll which is still under the classification of a poll. Polls can be fabricated or made up. I never really pay attention to those, especially presidential polls -Feel Free to Disagree

• United States
4 Mar 08
Hello Superjockh, I will say that IF I worked for the Gallup Organization, that I would be none too thrilled that you'd just questioned my integrity, as a member of the Gallup Team. While there is no question that aggregate data can be skewed, most often from the onset via the presentation of the questions, it seems somewhat narrow sighted to pre-suppose that the poll may have been fabricated. In fact, Gallup is one of the largest polling firms in the nation. Their reputation earns them both repeat and new contracts on an annual basis. If they were even suspected of fabricating research, they would soon have to close their doors -- as a company or organization is not going to pay them for questionable research.