Is there a secret to opening a roll of quarters?


United States
March 4, 2008 11:25am CST
I'm in the middle of doing laundry and we have the machines that cost $1 to wash. I had a heck of a time getting the roll of quarters opened and half of them rolled all over the place when I finally got it opened! Is there a secret to opening these rolls? Does anyone else have the same problem?
8 responses


• United States
4 Mar 08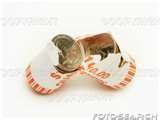 I just hit the side of the counter til the bust open but the way the rolls are made, one can't just open them like the old times. I'd have to ask the bank about how to open them to see what they'd suggest. Good luck!

• Canada
4 Mar 08
Hello ctrymuziklvr For laundry purposes and the type of rolls you have pictured here I take my finger nail and go around the one end near that ring and once you get that ring off then you can remove the amount of quarters that you need and still be able to seal up the roll with your remaining quarters for next time! :) I hope this is helpful :) ~Heavens~

• Turkmenistan
4 Mar 08
I know what you mean. You are talking about the ones that are wrapped in platic. I have not had one of those in a while. If I were you, I would take some scissors and cut it at the end and tear it open. I do not know any other simple way of doing it.

• Canada
18 Mar 08
If the ends are just folded down then all you have to do is unfold them and shake them into your hand. But if they are taped or glued just hit the roll on the side of a table or something, really hard, and the paper will rip and then you can get them out easier. I have never had a problem gettin them open, but then maybe it is because I hit them. But usually I just have to unfold them from the top or bottom.

• United States
5 Mar 08
Smash them against the corner of a table so it splits it in the middle or thereabouts. They should fall out a little easier then.

• United States
5 Mar 08
When I watch professional people, they smack them against the edge/corner, some part of a counter. Some scoot out the end. I've also seen them fall all over the place if hit too hard. I tend to find a seam and rip them open as far as I need to in order to get some out. I find dimes to be tough and slippery goomers. Take care and hope something helps.

• United States
4 Mar 08
A small knife or even a finger nail file open them easily. HAPPY POSTINGS FROM GRANDPA BOB !!~