red bull= sleeping disorder?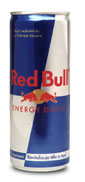 India
March 5, 2008 4:10am CST
I had one of the most exams coming up a couple of days back. To keep up with the syllabus I took to Red Bull, finishing a can in around around 2 days. The caffeine allowed me to manage with just 2-3 hours of sleep each day. However, the day before the exam I did not take even a sip of the energy drink. Yet, despite my best efforts to have a couple of hours of sleep I wasn't able to doze off. It was just with the help of a sleeping pill that I could manage a few hours. To prevent exhaustion I had to take up another Red Bull at the exam. I now have another paper coming up and I can think of no way to get by without this "drug". Have any of you faced similar problems? Any suggestions? Please help me!!
1 response

•
20 Jun 08
I think it just depends on the person. My boyfriend is like you and if he has an energy drink, such as Red Bull then he struggles to get to sleep and he may not sleep until around 4am. Whereas, I can have an energy drink during the day and sleep fine when it gets to 10pm or whenever I want to sleep. I don't think my body likes being told when it can and cannot sleep, because my boyfriend has these drowsy allergy tablets that send him straight to sleep, whereas they don't even make me tired.